Skip to Content
How to Create an Effective Social Media Calendar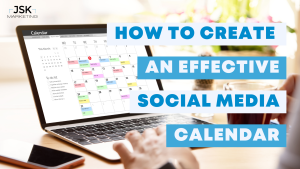 A social media calendar is your blueprint to engaging your audience, building brand presence and keeping your content strategy in check. It allows you to collaborate, plan and organize. Creating your calendar doesn't have to be a puzzle, but it does yield some impressive results and is a lifesaver for social media marketers. Continue reading to learn how to create and use a social media content calendar.
What is a Social Media Calendar?
A social media calendar is the process of creating and planning daily social media posts for future dates. Social media marketers depend on content calendars to monitor when and where to publish their content. It allows you to plan for upcoming dates, making sure content is not only timely but also relevant to the target audience. This has proved to be particularly helpful when managing multiple accounts. By having a centralized content calendar, posts can be better aligned with marketing goals and campaigns. To learn more about other social media best practices, check out our blog.
Why It's Important
Two of the most important factors of social media marketing are: your target audience and consistency. By catering to your target audience, you can strategically plan and tailor your content to resonate with their preferences, interests and behaviors. This shows that each post poses a purpose in engaging and connecting with the right people, increasing the chance for more meaningful interactions and conversions.
Consistency is key, especially when it comes to building a strong online presence. By posting regularly you're showing you're reliable, which builds trust with your audience. Regular updates and relevant information posted reaffirms your brand's commitment and professionalism, encouraging followers to remain engaged and informed.
This approach not only amplifies engagement and brand loyalty, but also contributes to the overall effectiveness of your marketing strategy.
How to Create Your Social Media Calendar
By creating a social media calendar, you're giving yourself a birds-eye view of the content schedule, making sure there is a good mix and that it is relevant. You can do this by:
Choosing your post types and formats: You'll want to include a mix of posts (articles, images, FAQs) and formats (reels, carousel posts, stories). The easiest way to start planning is to include recurring or upcoming dates like holidays, product launches, events and sales.
Posting frequency: Since social media moves so quickly it can be hard to keep up. Your posting schedule should be determined by your business goals and your audience engagement patterns. You want to avoid the trap of either over-posting or failing to share sufficient content to remain relevant. Check out our blog on other social media mistakes to avoid.
Choose your platforms: Don't feel pressured to be on every social media platform out there. Choose the ones that make the most sense for your business. To determine this, you can look at your competitors' primary posting platforms and analyze where your target audience is spending their scroll time.
Schedule, track & monitor: Scheduling ahead gives more time for edits in copy or visuals. Once your posts go live, you can track their performance. The metrics will give you the data you need to make decisions on posting days and times, content types and copy length.
Creating a calendar for social media helps you stay consistent, create great content and saves you time. A good social media calendar is going to make it much easier for you to meet your audience's needs. If you're looking for help, you can experience the full spectrum of success in social media with our services. We not only manage your social media but create content that resonates with your audience and ensures that your brand remains relevant and engaging. With JSK Marketing, we'll help you achieve your business' social media goals. Send us a message or give us a call at 904-206-8994 today to get started!