Skip to Content
Social Media Mistakes to Avoid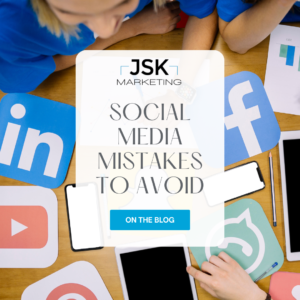 We often talk about the best strategies to use on social media but what about the mistakes to avoid? In this blog post, we'll highlight four key social media mistakes to avoid so that you can create an authentic reputation and build brand loyalty.
Ignoring Data
One of the biggest mistakes that a business can do is not check their data enough or not bother to check it at all. If you want your business to succeed, you will want to ensure you have a plan in place and continuously analyze your data and adjust the plan accordingly. The same goes for social media! By tracking your social media analytics, you can better understand your target audience, see which platforms are the most useful for your brand, and most importantly, tailor your content strategy accordingly. Some of the most important metrics you should be tracking include:
Follower growth
Engagement rate
Audience demographics
Impressions
Conversion rate
Link clicks
Not Using Hashtags
Hashtags are a key component of today's world of social media. Hashtags categorize posts by putting all the information under a distinct subject, allowing millions of people to discover a specific type of content. By including relevant and trending hashtags in your posts, you are able to increase your engagement, expand your reach, and create brand awareness. Additionally, tracking specific hashtags is a great way to stay up-to-date with industry news and conduct audience and competitor research.
When you incorporate hashtags into your social media, you should avoid these common mistakes:
Not analyzing hashtag use
Using too many hashtags
Not using related hashtags
Ignoring local hashtags
Staying Silent in the Comment Section
The failure to listen to or respond to your audience in a timely manner could prove to be detrimental to a brand. However, if you are consistent with responding to messages and comments on your social media, you will begin to build relationships and increase customer loyalty. Additionally, engaging with your followers by responding to comments is rewarded by the algorithm. The higher your engagement rate, the more your brand is able to grow. By staying active in the comment section, you can maximize your reach and enhance your online reputation.
By hiding the people behind the brand, you are putting yourself at a disadvantage when it comes to connecting with your consumers. Enhance your brand image and voice by showcasing your personality! Consumers are increasingly valuing personable, relatable messages from brands they connect with online. Featuring employees provides a glimpse into what happens behind the scenes, allowing brands to share their story in an authentic manner.
Social media is a powerful tool, but only when used correctly. Avoid these social media mistakes by teaming up with JSK. We have the experience required to design social media campaigns that will boost your brand and catapult your company forward. Contact us today to get started.