Skip to Content
Social Media Best Practices for Small Businesses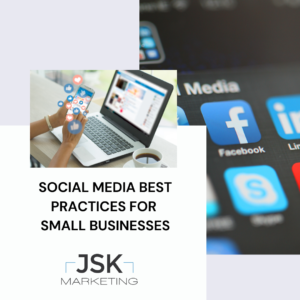 Social media usage has grown significantly over the past few years and has quickly become one of the world's best digital marketing tools. With over 80% of marketers today relying on social media to raise brand awareness, a substantial social media presence is no longer an option, but a necessity for small businesses. At first, it can be a little tricky navigating all of the different social media platforms and algorithms, but when you focus on simple, proven methods to boost your social media presence, you will start gaining traction that can bring lasting results. In this blog, we will discuss some social media best practices for small businesses.
Choose the Right Platforms
Who is your target audience and where do they spend the most time online? One of the first steps in creating a successful social media campaign is to study demographic trends so that you can have a better understanding of where to meet your audience. Spend some time understanding each social media platform, and don't limit yourself to just one or two. According to the Global Web Index, the average person has 8.4 social media accounts!
Put a Face to Your Business
Creating eye-catching graphics is a great way to grab your audience's attention and build brand awareness, but solely relying on text and images won't give your audience the full picture. Make sure to also include a personal touch to your marketing strategy by showing friendly, familiar faces to establish a personal connection. Introducing your team, sharing event photos, or asking engaging questions are all great ways to make your business more personable.
Build an Online Community
Another great way to grow your social media presence is to prioritize engagement and build a community online for your business. There is nothing more important than engaging in direct conversations with your audience and that can easily be done through Twitter polls, Instagram stories, Facebook groups, or livestreams. Filling your feed with a variety of posts will not only diversify your page, but also appeal to different segments of your audience. The creative options are endless!
Use Both Organic and Paid Strategies
Should you use paid or unpaid strategies on social media for your business? The answer is usually both. Organic media is any unsponsored content that is posted on social media that encourages a natural interaction with your audience and paid media is content that you pay to promote, typically through ads. Both efforts share common objectives that contribute to building a brand that your audience will want to engage with. Integrating both paid and organic social strategies are a great way to strengthen your existing customers and reach new ones.
Track Performance with Analytics
As you begin to implement your social media strategy, it's important to have specific reporting methods in place to consistently measure engagement and see which strategies are most effective with your audience. Many social media platforms offer their own built-in analytics tools, or if you want to take it a step further, invest in an automated social media scheduling tool that houses all of your reporting in one location. Whichever method you choose, make sure to take some time out each month to monitor your growth and see what's working and what changes you should make in order to guarantee your numbers keep trending upward.
Most Importantly, Be Patient!
Social media growth does not happen overnight and is not guaranteed. New platforms are emerging every day, and it seems existing algorithms and trends change with the wind. It's important to continue experimenting with new strategies and social channels so that you can adapt to a plan that is realistic for your business. With consistency, effort, and a little time, you will see valuable results. Not sure where to start? We would love to partner with you to create a social media strategy that is sure to result in success. Contact us today to get started!