Skip to Content
5 Reasons Why Your Organization Should Invest in Content Marketing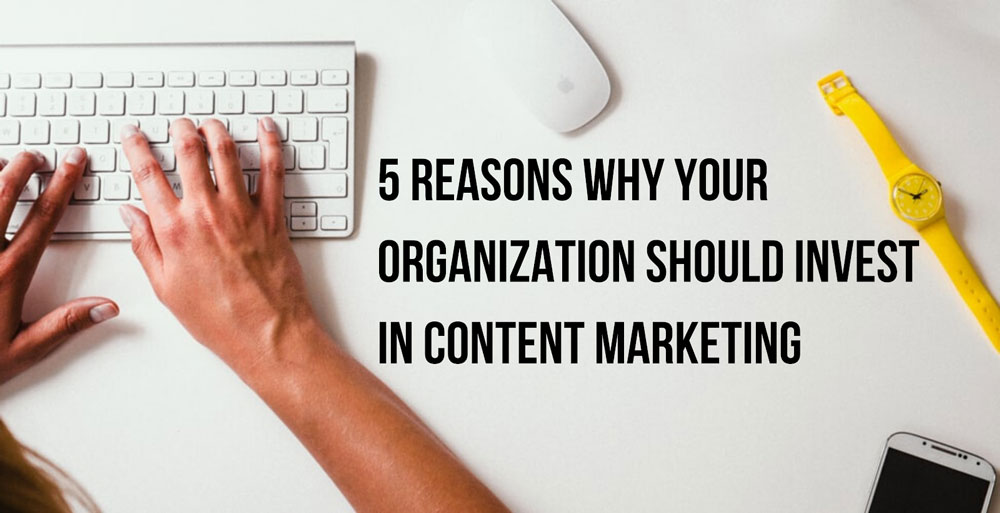 Although many forms of traditional marketing are still productive, some are becoming less and less effective by the day. As innovative marketers, it is important to use content marketing as a part of your marketing strategy. Content marketing is a marketing technique of creating and distributing valuable, relevant, and consistent content to attract and acquire a clearly defined audience — with the objective of driving profitable customer action. Content marketing involves the creation of materials such as blog posts, white papers, videos, articles, or infographics. Within these materials, content marketing stimulates interest in a brand without explicitly promoting the brand. Content marketing is an attempt to attract a relevant group of people by giving them valuable information. Traditional marketing and advertising are based on reaching out to an audience rather than attracting that audience to you. So why convert from traditional marketing strategies to more content marketing strategies?
1. Build Brand Awareness
If you are a new startup business, or if you have been in business for a while but traffic has decreased, content marketing can help! Building brand awareness is one of the most important aspects of running a business. Brand awareness brings brand familiarity, and consumers are much more likely to purchase from the brands they recognize and trust. With this strategy, it is easy to generate more awareness and leads for your business through your content. When your content is strong, it allows you to show your customers who your company is and what your brand is all about. To effectively use content marketing to build brand awareness, you must understand your audience and the needs they have. The structure of your content will reflect your audience's interests and values. It's important for marketers to choose topics that your audience is interested in and use those topics in your content.
2. Enable Your Brand to Showcase Expertise
When consumers make decisions, they generally choose to purchase from a company who has expertise in that specific industry. One way for businesses to show consumers that they have what consumers are looking for is through content marketing and thought leadership. Content marketing allows your brand to demonstrate its expertise in the field, while providing valuable knowledge that can help consumers make a more educated purchasing decision. With every post you make, consumers will look at and make their decision according to the subject matter. Marketers should publish consistent content that is educational and informative and shows expertise; this allows consumers to feel they are being taken care of by industry experts.
3. Set Yourself Apart from Competitors
The landscape of online marketing is becoming more competitive. For companies to survive, they must have some sort of edge on their competitors. Marketers must provide a deeper understanding of their brand to the target audience with a clear call to action. Sharing custom, quality content will set your brand apart from its competitors. The value your content offers could be the only difference between a customer choosing your brand over your competitors'. Determining how you want to portray your brand and developing a brand voice is a great way to make your company unique. Your content's language and the way you present your information can help you connect with your target buyers and show them what makes your business special.
4. Optimized Content Is Critical in SEO
In order for your business to improve search engine optimization (SEO), you must use content marketing. Creating optimized content is key to improving visibility for your business online. One of the best ways to create content sure to boost SEO is to include a blog on your business website. Websites with a blog have 434% more indexed pages (Tech Client). When you have more content on your website, search engines have more to index, allowing for your content to be seen by more users in their search results. If you aren't creating and sharing content, your business will not rank better than your competitors in search results. SEO demands good, consistent content, which is why it's important to publish content regularly.
5. Customized Content Is Cost-Effective
Content marketing pays for itself as customers from SEO and social media sources respond to thought leadership and content reliability. If implemented correctly to reach your business's target audience, customers are more likely to spread the word about the product or service your business is offering. This makes content marketing even more cost-effective. Also, based on a study by Kapost, content marketing has lower up-front costs and deeper long-term benefits than paid search.
Today, content marketing is an integral part of any successful marketing campaign. It works with email marketing, social media marketing, and search engine optimization. High-quality content addresses the needs of your target audience and drives traffic to your business. Not only does it drive traffic, using a content marketing strategy connects you with your audience and builds trust with them, which can generate even more leads. Businesses cannot afford to dismiss the importance of content marketing.
If your business needs help with its content marketing strategy, JSK Marketing can help! To learn more about the solutions and services we offer to help your business click here.