Skip to Content
What is Search Engine Marketing (SEM)?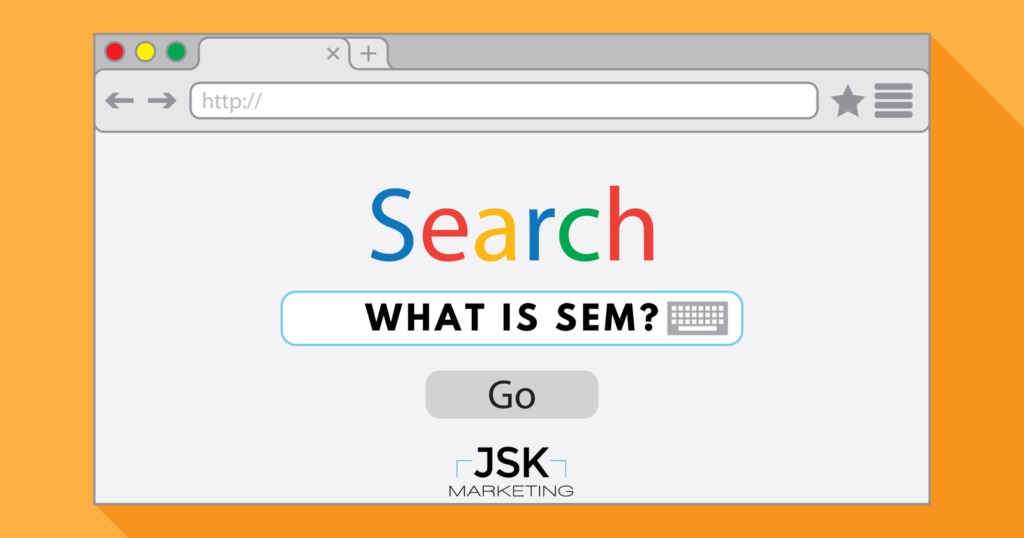 Search Engine Marketing or SEM is the process of gaining website traffic by purchasing ads on search engines. SEM used to encompass both SEO (search engine optimization) and paid search activities. Now, SEM refers solely to paid search. Paid search ads are something your business should utilize in order to stay competitive. SEM is a great way to reach a highly receptive audience and is one of the most effective ways to grow your business. Promoting your products and services through the use of SEM is an important step in building brand awareness. There are three main types of SEM marketing: PPC/Search Advertising, Display Advertising, and Social Media Advertising. We will go into depth about the best practices you should follow and the various types of ads that can be used to generate traffic.
PPC / Search Advertising
Search advertising uses a "pull approach", meaning consumers are already looking for an answer or product. With search ads, your paid-for ads are shown above organic results when you search for something on search engines like Google, Yahoo, and Bing. Google Ads is the most widely used SEM platform. Billions of Google searches happen each day, so Google Ads is a great way to get your business in front of the largest audience. Whether a consumer is on a desktop or mobile device, a Google Ad can turn them into valuable customers. Bing Ads is another popular SEM platform. Bing Ads serves ads on partner sites such as Yahoo and MSN and helps your brand connect with consumers that aren't exclusive to Google when it comes to searching the internet.
Pay-Per-Click or PPC is a paid marketing strategy where a brand creates a digital ad and is charged by the number of clicks a user makes on it. PPC search advertising allows you to show your ads directly on the Google search results page for keywords that are relevant to your product or service. These types of ads work on a 'bid' system, meaning the higher you want your ad to appear on the search engine results, the more you have to pay. Depending on the cost of the ad and the search engine, they may appear above, to the right or below organic listings. They are also required to identify as paid-for content. You decide the search word that triggers these ads and write your ad as you would like for it to appear, following the guidelines of the specific search engine. It is important to note that while all SEM platforms utilize a PPC advertising model, not all PPC is SEM.
Display Advertising
The ads that appear outside of a search engine are called display ads. Display ads use a "push approach", meaning people usually see these ads because they were targeted after watching a video, reading an email, or browsing the web. Display ads are placed on relevant third-party websites in the form of a banner, image, or text ad. Utilizing these types of ads helps generate awareness in people who don't know about your business. One might expect these ads are ill-received and impossible to ignore. However, with the rise of ad-blocking apps, advertisers now understand the trade-off between trying to get the attention of a customer and being blocked out completely. These types of ads will typically pay an amount for every impression they make and have a low click-through rate. A click-through rate is the number of people who click on the ad, versus the number of impressions it makes.
Display Ad Retargeting
Using display ad retargeting, you can re-capture attention by upselling or down selling across the marketing funnel and re-engage your audience across the web. It works by "following" site visitors and displaying retargeting ads as they visit other websites. A simple JavaScript code placed in the footer of your website anonymously follows your audience across the web. Geographic targeting display ads allows advertisers to reach their ideal audience as well. Because IP addresses can be mapped to physical locations, local advertisers can target visitors in the specific markets that they do business in. You can use geo-targeting in order to display or hide ads for visitors coming from a specific location (i.e. country, city, or continent). Geo-targeting is important because showing ads to consumers outside of the relevant area(s) drives wasted impressions and clicks, thus cutting into a business' marketing budget without offering any kind of return.
Social Media Advertising
Most social media platforms have some sort of ad capability. When thinking about which social networks to use for advertising, look at which ones perform well organically. Networks that are most popular with your customers are an obvious choice for your first social ad campaigns. These ads are labeled 'Promoted' or 'Sponsored' and blend into your newsfeed on Facebook, Twitter, and Instagram.
Targeted Social Media Ads
Creating ads on a social media platform is a great way to have your ads shared with others, resulting in your ad being interacted with in many more ways than a normal ad. Targeting your ads and promoting them once or twice over a certain period is a common strategy for businesses. Display targeting allows you to show your ads only to the people who meet your target demographic. Social media advertising platforms are so powerful nowadays that you can specify exactly who to display your ads to. You can create target audiences based on their demographics, interests, behaviors, and more.
Promote Your Social Media Posts
Promotion allows your previous post-interaction to remain by extending the time of your ad to create the illusion of a larger conversation. New content is fine, but repurposing your content is a better strategy. This will give a whole new audience a chance to discover and consume your existing content.
Each social media platform is designed to facilitate the goals of your business, such as brand awareness, lead generation, website traffic, and more. You can even access the analytics for insights into how to enhance the performance of your social media advertising campaign. Paid social media advertising allows you to amplify reach, enhance targeting, and drive greater results.
SEM Builds Your Brand
Utilizing search engine marketing or SEM can significantly speed up your ability to build your brand and client base. It will put you in front of target audiences who are actively searching for products, services, and brands related to your business. You want to appear at the very top of those searches, or else someone else is likely to get the sale. Because of this, SEM can be a great marketing investment for your business.
Want to run SEM campaigns but not sure where to start? Contact JSK Marketing today and see what we can do for you. Visit our website.