Skip to Content
How to Get More Customer Reviews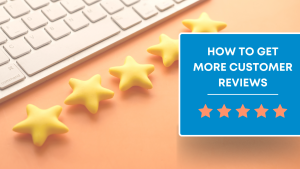 As a digital marketing agency, we understand the importance of customer reviews in building brand credibility and trust. In fact, studies have shown that online reviews have a significant impact on consumer behavior, with 93% of consumers saying that online reviews influence their purchasing decisions. With that in mind, it's crucial for businesses to actively encourage and collect customer reviews. Keep reading to discover effective strategies that can help you gather more customer reviews for your business.
Provide Excellent Customer Service
The first step in getting more customer reviews is to provide excellent customer service. Happy customers are more likely to leave positive reviews, so make sure your team is providing top-notch service at every touchpoint.
Make it Easy for Customers to Leave a Review
Make sure you have a presence on popular review sites like Yelp, Google My Business, and Facebook. Include links to these sites in your email signatures, on your website, and in your social media profiles. Encourage customers to leave a review by including a call-to-action in your email marketing campaigns.
Offer Incentives
Consider offering incentives for customers who leave a review. This could be a discount on their next purchase or entry into a contest. Be sure to disclose any incentives in your request for a review, as some review sites have strict rules about incentivizing reviews.
Follow up with Customers
Follow up with customers after their purchase to ask for a review. This could be a personal email, or a survey sent through your customer relationship management (CRM) system. Timing is important here – you want to follow up while the purchase is still fresh in their mind, but not so soon that it feels pushy.
Respond to Reviews
Responding to reviews, both positive and negative, shows that you value customer feedback and are actively working to improve your business. Be sure to respond in a timely manner and address any concerns raised in the review.
Leverage Social Media
Social media is a powerful tool for building brand awareness and engagement. Use social media to promote your presence on review sites and encourage customers to leave a review. You can also share positive reviews on your social media channels as social proof. Check out one of our recent blog posts where we provide tips on how to use social media for your small business.
Use Customer Feedback to Improve
Lastly, use customer feedback to improve your business. Take note of common themes in negative reviews and work to address those issues. Celebrate positive feedback with your team and use it as motivation to continue providing excellent service.
Customer reviews have become an essential part of the buying process. They not only provide valuable feedback to businesses but also play a crucial role in influencing consumer behavior.  Don't underestimate the impact of online reviews on your brand's reputation and bottom line. By prioritizing customer feedback and implementing the strategies outlined in this blog post, you can create a culture of customer-centricity that will set you apart from the competition and drive long-term success.
If you're looking to boost your online reputation and collect more customer reviews, JSK Marketing can help. Our team has extensive experience in digital marketing, including review management, social media marketing, and more. Check out our services on our site and contact us today to learn how we can help you grow your business through effective digital marketing strategies. We look forward to hearing from you!