Skip to Content
Your Holiday Marketing Campaign Checklist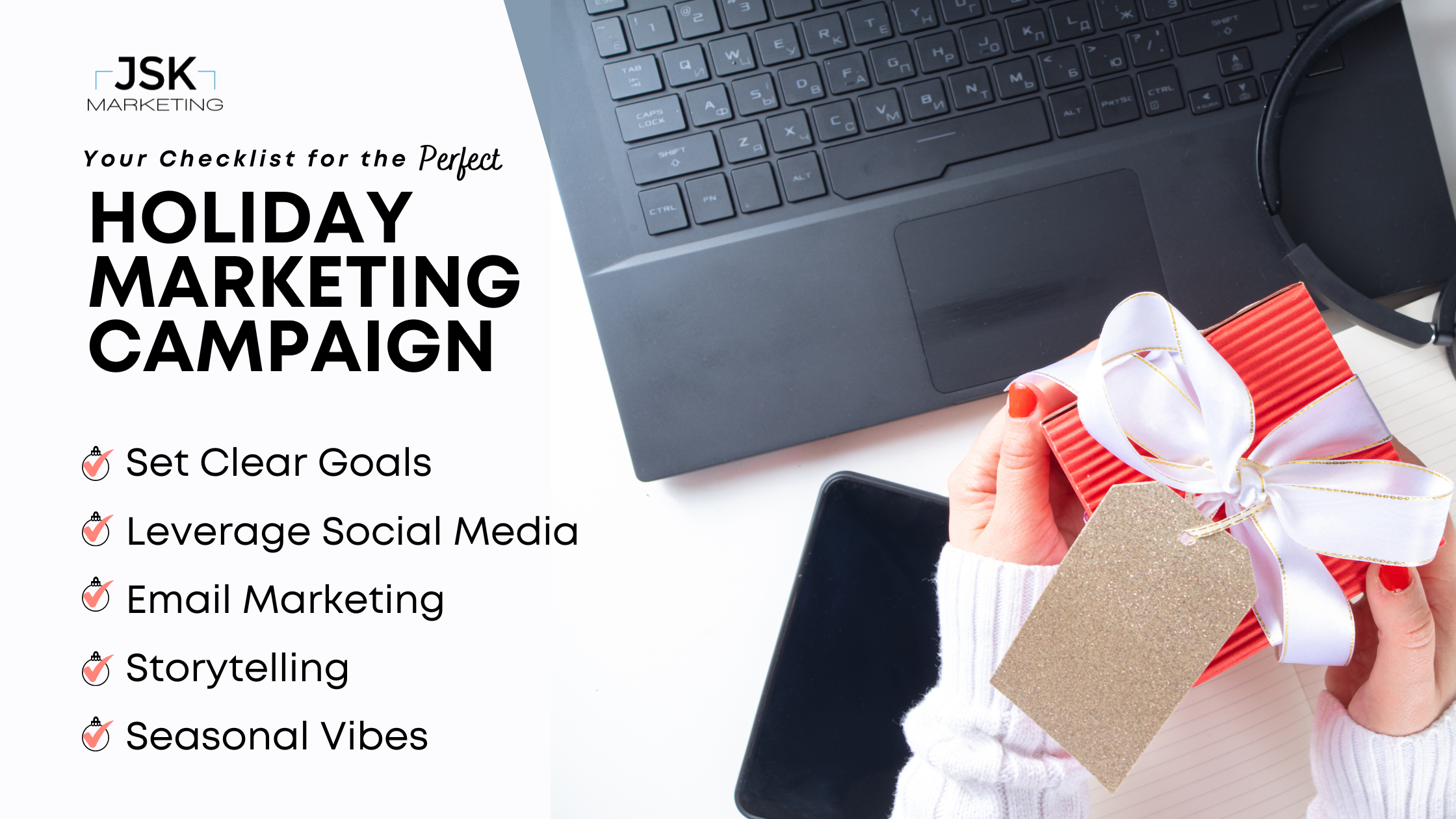 Fall is right around the corner, which means the leaves are changing, the weather might be getting cooler, the smell of pumpkin spice is in the air and holiday marketing campaigns are just getting started. Creating a holiday marketing campaign that is effective requires getting cozy with your customers. You don't want to miss out on the last piece of pie or the chance to outpace the competition this season. Grab your mug of apple cider and let's dive into the essentials of your next holiday marketing campaign.
1.      Set Clear Goals
Your goals and objectives don't just give you direction; they also act as a benchmark for measuring your campaign's success. Remember to make them SMART: Specific, Measurable, Attainable, Relevant and Timely. Whether you're tracking engagement rates, sales or increasing brand awareness, having clear goals you've set for your campaign will help to shape your strategy.
2.      Leverage Social Media
Being visual is essential during the holiday season. Your customers are spending a lot of time on their social media channels during this time of year and they're looking for brightly colored posts and inspiration and ideas for food, entertainment and gifts. Social media can amplify your campaign, especially when you plan a content calendar and use relevant, festive hashtags. Don't just hard sell your product or service. Paint it in a light that shows off your holiday cheer.
3.      Email Marketing
People always have their phones on them and don't just use them to check their social media. This is where emails come into play. A festive email newsletter is a must for every holiday campaign. During the holiday season, your customers are eagerly awaiting exclusive email holiday deals, discounts and heartwarming holiday wishes. During this festive season, email newsletters are a playground for fun content. You can make them creative and unique while staying true to your brand. They also don't need to be super personal- just keep them engaging and on-brand.
With storytelling, you're building connections that go beyond transactions. As you're crafting your campaign's content, remember that you're not just selling products and services; you're offering an experience, an emotion and a story that your audience will remember long after the holiday decorations have been put away. Your holiday campaign has the power to resonate, captivate and create magic this holiday season.
5.      Seasonal Vibes
You can't have a holiday campaign without infusing it with holiday themed concepts. Setting the mood with festivities and visuals are essential. Start by using fall-themed visuals, winter landscapes or the bright colors of the cornucopia to create the holiday visuals that capture this magical time of year. By decking the halls of your website, social media channels and email newsletters, you're reinforcing the connection you already have with your customers.
With this checklist in your pocket, you're not only setting yourself up for success to sleigh the holiday season, but you're building long-lasting relationships and connections with your audience. Let this season's holiday campaigns guide you to bring warmth and joy to both your brand and your customers.
If you're ready to make this holiday season unforgettable for your brand, partner with us! Don't miss out on the opportunity to spread holiday cheer all while boosting your brand's success. Contact us today and we will help you create a holiday campaign that shines brighter than Rudolph's nose.