Skip to Content
Why Your Website Needs to be Mobile-Friendly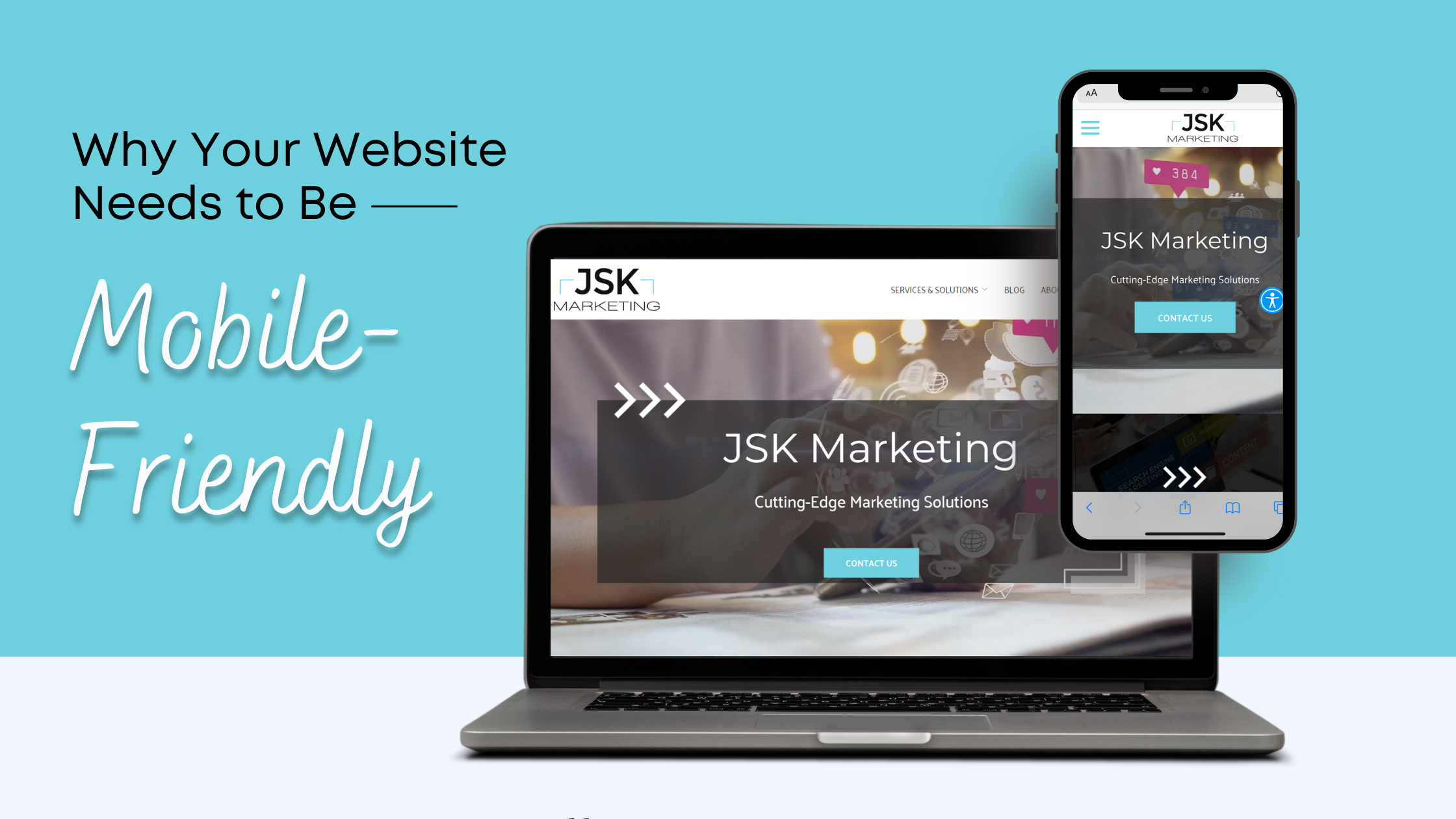 Did you know that 56% of all website traffic comes from mobile usage? Every day more and more people are accessing the internet through their phones.  This means that making your website mobile-friendly is no longer a nice-to-have; it's crucial for businesses. In this blog post, we'll discuss what a mobile-friendly site is and the reasons why your website needs to be mobile-friendly. 
What is a Mobile-Friendly Website?
A mobile-friendly website is one that is designed specifically to display your information on smaller screens, such as an iPhone or Android. Standard desktop websites do not fit this format very well. However, a well-designed mobile-optimized site will adjust its content and other features to this format by: 
Enlarging text making it easier to read

 

Creating touch friendly buttons and page elements

 

Enhancing faster download speeds

 
Why you Need
a Mobile-Friendly Website
Accessibility
Mobile-friendliness and accessibility go hand in hand. It allows people accessing your website from a mobile device to be able to access it quicker and easier. Online trends also lean towards usability with mobile devices. The mobile landscape is constantly evolving with new technologies, so when your website is mobile-friendly, it sets the foundation to adapt to these trends and helps with staying relevant. 
User Experience
It's a known fact that when people have a more positive experience when using your website, they are more likely to return. People will choose to leave your website within seconds if the website doesn't translate correctly to smaller screens than your average desktop. This leads to higher bounce rates. Creating a website that has text that is easy to read, interactive elements that work correctly and easy navigation will leave users with a superior user experience. This will also lead to longer time spent on your website, increased engagement and higher conversion rates.  
SEO Rankings
We know that the main goal of SEO is to get your site at the top of the search results. Your website has a higher chance of being at the top when it is also mobile-friendly. Google favors these kinds of websites, meaning it primarily uses the mobile version of a website for ranking. Failure to do this can result in lower SEO ranking and decreased visibility and organic traffic.  
Competitive Edge 
With a plethora of website choices at consumers' fingerprints, standing out in the crowd by being mobile-friendly can help them choose you over someone else. By being mobile-friendly, you can gain the competitive edge of being ahead against your competitors, especially those who have not yet taken advantage of the mobile market. Make sure you're not left behind with bad mobile optimization and clunky design elements.  
The shift towards mobile internet usage is undeniable, and ignoring this trend can lead your business to miss out on some key opportunities to increase your visibility. Being mobile– friendly isn't just a design choice; it's strategic for attracting, engaging and retaining your audience. The benefits of making your site mobile-friendly can't be beaten. So, what are you waiting for?  
At JSK Marketing, we understand the significance of making a site mobile-friendly with our website design and management services. With our vast experience, we're here to help you boost your website's visibility, increase user engagement, drive sales and reach a wider mobile audience. Don't let your website fall behind. Take action with us and let's elevate your online success together. Contact us today!