Skip to Content
Why Meta? The Future of Facebook and Its New Name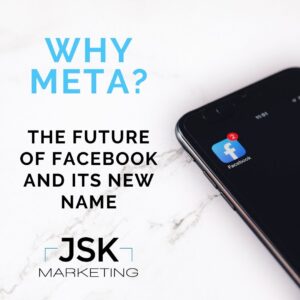 Since it's conception in 2004, Facebook has long been one of the most recognizable companies in the world and according to a recent report by GWI, remains the most preferred social media app for internet users ages 16-24. So, it's no surprise that the recent rebranding and name change announcement by founder Mark Zuckerburg took the world by surprise. What exactly does 'Meta' mean, and how will things change for Facebook moving forward?
Why Meta?
In October during the opening keynote speech for the Facebook Connect conference, Zuckerburg announced what everyone was waiting to hear: Facebook is changing its name and will now be called Meta. Not to be confused with the social media app itself which will remain the same, the company behind it and everything else will now associate with the Meta brand.
Why Meta? According to Zuckerburg, the term Meta comes from the Greek word meaning 'beyond', symbolizing that there is always more to build and there is always another chapter to the story. He feels the name Meta would best represent the company moving forward and was a necessary change needed to reflect the multiple services the company owns, including WhatsApp, Instagram, and Messenger. The metaverse is the vision around how people will interact with the internet over the coming decades, with new emerging experiences like virtual reality, augmented reality, and smart glasses, with a focus on helping people connect, find new communities, and grow businesses.
The Future of Meta
As Meta begins to move forward and unveil new changes and features, we wanted to highlight a few updates that we know about so far that allow businesses to further connect with their customers on the social media platform.
Facebook Groups – Admins and moderators will now be able to generate revenue through groups by creating community fundraisers, e-commerce shops, or charge subscriptions for users to access special subgroups. This new feature allows creators to continue to provide high-quality content for their audience, and give them new ways to invest in their business and further connect with their customers through the app.
Video and Audio Calling – Business Inbox in Messenger is available just in time for the holiday season. As people's preferences on how they want to interact with companies evolves over the years, this new feature is a great way for small businesses to communicate with their customers in a private setting. Businesses are now able to seamlessly connect with their customers using audio and video communications straight from the platform itself.
Small Business Support with Personalized Ads – Meta will continue to test new ways to show its users they are supporting a small business when they engage with a personalized ad, like providing an informational message on their feed explaining how engaging with an ad from a small business can help the business continue to find new customers and grow.
These are just a few of the changes that have been announced recently since the rollout of the new brand and company name. The future of Meta will continue to grow and adapt as social technology continues to expand over the next decade.
What's Next?
The metaverse will become a hybrid of today's online social experiences, allowing users to work, play, learn, shop, create, and hang out with friends in a completely different way than what we have experienced in the past through social media apps. There will be new tools available for businesses to utilize and allow users to have completely new social experiences in their professional and personal lives.
Our team at JSK Marketing understands the importance of staying on top of emerging trends and technology changes and can help your small business take full advantage of these new social media features and tools available today. Contact us to get started!