Skip to Content
Why It May Be Time to Hire a Marketing Agency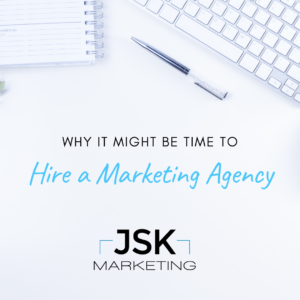 One of the many challenges business owners encounter daily is gaining new customers while also finding the time to do all the other tasks to keep your organization running smoothly. Marketing for your business is essential in attracting new customers, however, many business owners struggle with deciding whether they should hire outside help or handle marketing in-house.
One thing we can all agree on – all organizations can benefit from a well-thought out, effective, and executed marketing plan that results in lead generation, sales, and long-term growth. So why do so many business owners (especially those with small businesses) hesitate on hiring outside help?
If you find yourself on the fence with hiring an outside marketing agency, you are in the right place! How do you truly know when it's time to stop doing it all yourself and make the first move? Here are 5 signs it may be time to hire a marketing agency.
Your Time is Limited, and You Can't Do It All
Many entrepreneurs begin with the mentality that they can "do it all", especially when you are starting out and might not have the extra resources to hire a team just yet. As a small business ourselves, we get it! Juggling email marketing, social media posts, and web updates alone (and we only named a few!) on top of all of your other business obligations can become too much for one person or even a small team to tackle.
Since marketing usually takes time and strategy, it can get quickly thrown to the bottom of the priority list when other pressing items are in the picture, like paying bills and putting out fires. Marketing platforms and technology are constantly changing, and many business owners don't have the time to keep up, which is the perfect time to hire a marketing agency whose top priority is just, well, marketing.
Sales Aren't Improving
If you find yourself in a situation where your notice your sales aren't improving but you know you have a great market for your product and service and an excellent sales team, it might be time to consider revamping your current marketing strategy. Hiring an outside marketing team can bring a fresh perspective on your approach and help you develop an inbound marketing strategy to ensure you are reaching your key customers where they are and with content that they actually want to see. A lot of times many agencies can help you see missed opportunities and help breath new life into your strategy.
You Aren't Ready to Hire Just Yet
Due to the rise of complex digital marketing today, developing an effective marketing strategy involves a lot more than just hiring a brand manager. Digital marketing today requires detailed knowledge and skills in social media, SEO, graphic design, copywriting, and so much more, and the reality is that many small businesses aren't ready to hire an entire team in-house to cover all of those aspects quiet yet. By partnering with a marketing agency, you can instantly grow the size of your marketing team and gain specialists in each field who can build a personalized plan based on your unique business needs.
You Don't Know What's Working (Or What Isn't)
Say one day you notice that you have an influx of calls, your website traffic has doubled, and a post on social media has gone viral, but you aren't exactly sure why. Marketers today spend a lot of time testing, tracking, and analyzing results to identify what actually works and what doesn't and if you aren't measuring social engagement or website analytics on a regular basis, you are missing a huge chance to gather valuable information from your audience. Hiring a marketing agency can help you create measurable marketing strategies that can stretch your budget and allow your resources to go even farther.
Your Content is Outdated
If you haven't touched your website in quite a while or are struggling to post new content on your social media channels, it's definitely time for an update to stay competitive. Today, Google gives priority ranking to websites that are mobile-friendly and responsive and the majority of your audience will appreciate a website that provides a seamless viewing experience across all devices. Also, many social media platforms and algorithms require consistent and frequent posting to keep engagement active and user traffic flowing.
At JSK Marketing, we understand how difficult it can be to find the right marketing agency that suits your individual business needs. If you find yourself dealing with any (or all!) of the above situations, contact us today. We would love to connect with you!