Skip to Content
What's All the Buzz Around ADA Web Compliance?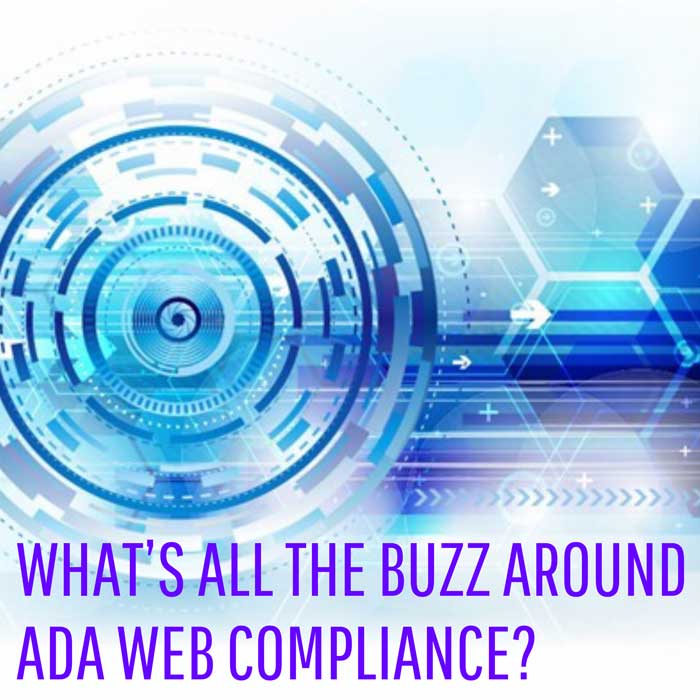 In recent news, industries and companies are facing legal action for not ensuring their website is ADA compliant. Though The American Disabilities Act (ADA) was amended in 2010 to include websites, it wasn't until recently, after several lawsuits being filed, that people started paying attention. This is likely in large part due to the fact that the final standards for what makes a website ADA compliant have yet to be released, but we at JSK Marketing think it's important to be aware and take charge of best practices to avoid potential legal headaches.
What is the American Disabilities Act?
Passed in 1990, The American Disabilities Act (ADA) ensures that commercial and public entities provide access and accommodation for individuals with a range of disabilities. This is why nearly every establishment you visit will have handicapped parking spaces, wheelchair ramps, and ADA compliant bathrooms. Websites were included in the 2010 amendment because of how important the web has become to our everyday life. While most folks assume this is only a burden to individuals who may be visually impaired, it also protects those who have mobility issues that limit their ability to use a mouse or keyboard, forcing them to rely on screen readers to absorb any information consumed via the screen.
If ADA hasn't set official standards, then how can I be sued for failure to comply?
According to the Search Engine Journal, both the U.S. and the U.K. refer to non-government related websites as "public" and "public sector" entities, allowing the legal system to hear cases brought by persons with disabilities who find themselves unable to use a public-facing business website. This is especially important if you have a brick and mortar business that must comply with ADA laws already.
What helps make a website ADA compliance friendly?
While it is nearly impossible to achieve 100% ADA compliance with a website, it is still best practice to do your due diligence and ensure as many systems are in place to support anyone with disabilities who may be visiting your site.
A key way to do this is by ensuring your website is setup to support screen reading technologies. A screen reader is technology that literally digests and reads off content from a website. This sounds pretty straightforward until multimedia gets involved, which let's be honest, virtually every website today utilizes some form of multimedia to make their website more engaging to users. To help screen readers digest multimedia on your site, it is encouraged to include alt text with any imagery being displayed. Alt text is also beneficial to your SEO, making this suggestion a win-win for your website. When creating alt-text it is important not to get carried away. They should be short and to the point, clearly describing the specific photo or video.
Another way to ensure your website is screen reader friendly is to ensure that you select PDF Optimizer when loading any PDFs to your site. While it is best practice to avoid loading PDFs to your site, (so that this content can assist with SEO) you should ensure that proper settings are applied so the screen reader can digest the content just as it would when crawling the content on your regular site.
Beyond ensuring a screen reader has no issue absorbing the content of your site, it is important to keep in mind that ADA compliance also comes into play around things such as font size and colors, proper HTML, clickable links, ease of navigability and how you link things to your site. All these factors (and more) can be things that legal entities attack when filing a lawsuit. When testing your site for usability, try to keep in mind how difficult things are to read, navigate, etc. If you have any concerns, it is always better to be safe than sorry. Keep in mind, this may even impact how your branding is integrated into your site. For example, if your brand colors are primarily white, light pink, and chartreuse, you may have to darken some of your hues for the purpose of your website to ensure there is enough contrast between background and font to meet ADA compliance.
How do you ensure your website is ADA compliant?
If you're not totally overwhelmed yet, I'm sure your next thought is: "What do I need to do to make sure my current site is compliant and remains compliant in the future?" There are tons of tools out there to help you test the accessibility of your site. One of our favorites is a tool called Lighthouse by Google Chrome. The tool scores you on accessibility (and other metrics like SEO & performance) and makes suggestions of what to fix so you score higher. While there are not clear website accessibility standards established yet by the ADA, you can refer to Version 2.1 of WCAG for the most recent recommendations according to the W3C (World Wide Web Consortium). If you are in an industry that is highly susceptible to legal action or is a company that doesn't have time to regularly maintain and monitor your site's compliance score, we recommend partnering with a third party agency or developer who deals with websites on a daily basis.
As good stewards, who long to create lifelong fans of our brands, we should always be thinking through marketing planning in a way that is inclusive of any potential fans, including those who may have disabilities. If SEO is already a major focus area for your company, you likely already have many ADA compliance best practices in place and only minor tweaking will need to be done.
If creating and maintaining an ADA compliant website seems overwhelming to you though or isn't something you have time for, we'd love to join you in the journey. Contact us today to learn more!