Skip to Content
What You Need to Know About the Rise of Short-Form Videos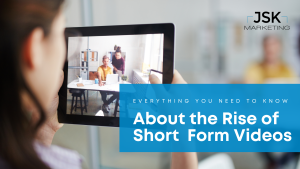 Short-form video content is dominating the social media landscape. Platforms like TikTok, Instagram, YouTube and Snapchat have used this trend to their advantage, sparking a new revolution in how brands communicate and connect with their audiences. The popularity of short-form video content has only continued to rise since its introduction from TikTok in 2020. Today, it's a necessity for your marketing strategy, especially if you want to stay up to date with the current trends. Here's what you need to know about the trend and how you can use it for your business's success story.
What is Short-Form Video?
Short-form video content refers to any videos that are under 60 seconds, with the majority of marketers saying they typically last anywhere between a few seconds to a minute long. They are designed to quickly convey information or entertainment.
The Benefits of Short-Form Video
Virality
According to HubSpot, 47% of marketers say short-form videos are the most likely to go viral. A well-crafted video can quickly gain traction, reaching a massive audience within a short period of time. With consumers demanding more and more short-form videos and with over 1 billion videos viewed every day on TikTok, the goal to go viral isn't as hard to reach as one might think.
Engagement
Did you know that short form videos have the highest ROI and holds the #1 spot for lead generation and engagement? In the era of shortened-attention spans, these videos offer quick and engaging ways to capture viewers' interests. Brands are sharing behind-the-scenes shots and product information that keeps viewers entertained and informed.
Video is Easier to Understand
In our world today, consumers prefer not to be bothered in reading long articles or detailed explanations and tutorials. Instead, they gravitate towards videos that simplify the process and provide clear explanations. When planning your next tutorial or informational video, keep in mind that your audience is more inclined to watch it. This shows the importance of delivering content in a concise and engaging video format.
Analytics
Measuring the effectiveness of any marketing campaign is crucial. Platforms that use short-form videos offer in-depth insights into user engagement, view durations and interactions. This gives content creators a powerful tool to refine their strategy if necessary. By analyzing the analytics, you gain more understanding of your audience's preferences and behaviors.
SEO
In 2021, 81% of all internet traffic was from video content. Through strategies of using keywords and hashtags where you can, you have a greater chance of ranking towards the top on the search results page of Google. However, 40% of Gen Z choose TikTok over Google as their search engine of choice. This means that your short-form videos have the chance to have greater visibility and searchability.
How to Use it
To get optimal results for your short-form videos, it's best to follow these best practices:
Participate in Popular Trends
Create Short, Creative & Punchy Videos
Focus on Authenticity
Share & Repurpose Across all Platforms
Experiment with A/B testing
Understand your Target Audience
Read our blog post on how to improve your video content
These ideas allow for a greater reach in audience, exposure, brand awareness and achievements in your marketing goals.
If you're wondering if your company should be using TikTok, Instagram Reels or YouTube shorts, and you're asking, "Where do I start?" The answer is with us, JSK Marketing. We have the knowledge and expertise in crafting compelling short-form videos that drive results and exceed goals. We believe authenticity is key, and our approach centers around creating content that resonates genuinely with your audience. Let us be an extension of your team so that we can clearly communicate your brand's story, products and services. Send us a message today!