Skip to Content
What to Expect from Google Analytics 4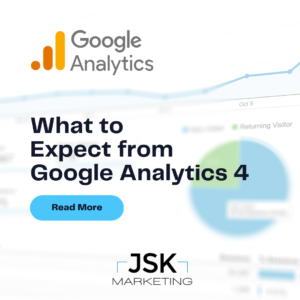 Most marketers and web managers today are using Google Analytics to measure consumer behavior and track the success (or failure) of their digital marketing campaigns. Last October, Google announced a significant change to Google Analytics and introduced Google Analytics 4 (GA4), an upgrade from their current analytics property, Universal Analytics (UA).
While this update isn't a complete overhaul, there is still a lot to learn and become familiar with before Google begins sunsetting Universal Analytics starting on July 1, 2023. In this post today, we will cover some of the more significant changes so that you can know what to expect as you make the change to Google Analytics 4.
Sessions vs Events
Google Analytics 4 is the most recent version of analytics set to replace Universal Analytics. This upgrade is a whole new update to the way web analytics are measured that will allow marketers to analyze user interaction overall, not just web traffic.
Unlike Universal Analytics, which is modeled around sessions and page views during a particular timeframe, GA4 will track the entire customer experience, or "event" across multiple platforms and will provide more detailed insights into how users interact with your website or app(s) that are triggered by user activities like scrolling or clicking.
GA4 also has a few new metric categories around engagement, including engaged sessions, engagement rate, and engagement time. While this a change from before, these new categories will make it easier to track customers throughout their entire journey with access to more data than ever before.
New Dashboard
Another change you will immediately notice is a brand-new dashboard and menu structure, and this area is definitely worth spending a little extra time getting accustomed to since most of the reports you would have been used to with Universal Analytics have moved. The menu is now separated into a few new categories including:
Life Cycle: reporting for high-level details about website usage and performance like Acquisition, Engagement, Monetization, and Retention.
User: where you can learn about who is engaging with your website, including Demographics and Events.
Explore: a newer version of Universal's Custom Reports with templates to help create customized reports like conversions.
Configure: A more advanced area that contains technical customization options.
GA4 also allows you to customize your dashboard which enables you to see the reports that matter the most to your business.
No More Bounce Rate
GA4 no longer records Bounce Rate and here's why. Consider this scenario – a reader lands on a blog page, spends about 5 minutes reading the entire blog, then clicks off the page, generally this would be considered a successful page visit. However, with Universal Analytics, this would be counted as a "bounce" since there would be no other additional page visit or click that would be considered "engagement".
With GA4, the system has been updated to consider engagement differently. Considering the scenario we mentioned above, GA4 will now record how long the user was on the page AND if they scrolled all the way down to the bottom. Overall, this is a much more accurate snapshot of the user's visit than just saying they bounced and moved on.
Make the Switch Now
These are just a few of the many changes you can expect when making the switch to Google Analytics 4. Although you can still use your Universal Analytics property until the July 1st deadline, it will really pay off to add a parallel GA4 property to your account so that you will have plenty of time to get used to the new way of analyzing your data moving forward.
As we mentioned earlier, once Google decides to begin sunsetting UA, it will no longer process any future data through that system, so we believe its important to begin collecting necessary historical data now rather than later, and thankfully GA4 can easily coexist with Universal Analytics.
Our team at JSK Marketing would love to help you make the switch and get into a rhythm of consistently tracking metrics in order for your business to move forward and grow. Contact us today to learn more!