Skip to Content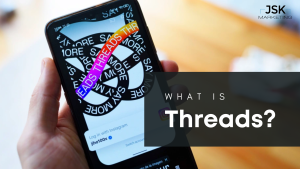 If you've been keeping up with the latest trends in the social media realm, you may have heard about another brand-new social media platform, Threads. Created by Meta and released to the public on July 5, Threads is a conversation-based app that looks nearly identical to Twitter. It's safe to say that these apps have turned into rivals of each other and are ramping up the competition in the social media space. Within the first few hours of its launch, Threads racked up over 10 million users, which in contrast took Twitter 780 days to reach that monumental number. So how does it work and what are the differences? Keep reading to find out more.
How Does it Work?
In order to sign up for Threads, users must have an Instagram account, despite it being a completely separate app. Once the app has been downloaded, users must login with their Instagram credentials or create an Instagram account if they do not already have one. Doing so allows users' settings to directly link up with one another. A bonus from this integration is that users don't have to build their following from scratch. There is an option that pops up almost immediately, allowing users to carry over their friends and followers. This also includes blocked accounts. However, a Threads account that has been created cannot be deleted on its own without deleting the associated Instagram account.
What are the Differences Between Threads and Twitter?
While many social media techs and critics have reported that Threads and Twitter are nearly identical, there are a few key differences. Threads' timelines, similar to Instagram and Facebook, arrange posts in a certain order based off of their preferences. Unlike Twitter, where the most recent posts are shown first, Threads uses an algorithm to determine the order of the posts. It also includes posts from accounts users do not follow, similar to Twitter's "For You" tab. The separate timeline gives users access to a variety of content and accounts, with an alternative feed alongside the main feed. Threads also does not limit the number of posts users can see in one day. Just before the announcement of Threads, Twitter released a boundary that says users can only consume 600 posts a day. Additionally, Threads is a mobile-only platform, meaning it can be accessed via desktop, but posts and interactions cannot originate from a non-mobile device. Threads also does not use hashtags, does not have a trending section and does not allow ads… yet.
Will Threads Replace Twitter Indefinitely?
"Twitter killer" is Threads' nickname. However, it is impossible to predict the future of the app as it has just launched. Meta CEO, Mark Zuckerburg, is known for his competitiveness and has created his own versions of other app features before. For example, Reels on Instagram were created after TikTok was released and you could say the features of each resemble each other. The New York Times simply puts it as, "Instagram wants to make it easier for Threads to operate seamlessly with other platforms, which could appeal to creators and influencers, so they do not have to start from scratch to each app."
There are always new technologies, strategies and trends developing. At JSK Marketing, we are here to help you stay up to date on the latest marketing news. We are committed to helping our clients stay ahead of the curve, and we promise that you will receive the latest and greatest marketing advice and insights from our team. Make sure to follow us on social media and send us a message today so we can help you get started on navigating the evolving world of trends, strategies and so much more!