Skip to Content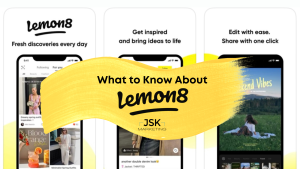 As we know, the world of social media is dynamic and ever-changing. Whether it be platform features, user preferences, algorithms and feed prioritization or influencer culture, it is important to stay in the know. Social media platforms like Instagram, Facebook, Twitter, LinkedIn and TikTok give us the opportunity to stay connected. As content creators, users and businesses using these platforms, we should be aware of what's new and evolving. Meet Lemon8, a recently launched social media platform that could catch your interest. Keep reading to learn more about the features and origins of Lemon8 to get a better understanding of what the newest platform has to offer.
Lemon8 is for Everyone
Lemon8 is a platform for everyone. For those seeking creative expression and authentic connections, this is becoming a place to be and be seen. So, what is it? Lemon8 is a photo and video-sharing platform, created by the same company that created TikTok. It was released in 2020 but didn't become popular in the US until March 2023 after influencer promotion on TikTok. Influencers are saying that it is a cross between Instagram and Pinterest, offering a place for users to share creativity and content on fashion, travel, food, art, makeup, wellness and anything else you can imagine.
Features of Lemon8
Lemon8 is like TikTok as it has the "For You' page and "Following" page, but that's where the similarities end. Lemon8 is described as a photo and video sharing-platform, focused more on photo sharing with a double-column feed. This can be refreshing since most other platforms have added TikTok-like video features. The app allows users to create engaging posts with a wide range of templates, stickers, filters and fonts. It also offers the carousel feature that you see on Instagram and TikTok, allowing users to share multiple photos within the same post.
Squeezing out the Benefits
This app brings an array of advantages and benefits to its users, making it a platform worth exploring. Here are a few reasons you should give it a squeeze:
Fresh Discoveries: Lemon8's algorithm ensures you are never missing out on exciting content. You'll be able to discover new music, artists, trends and any other topics that align with your interests. Embrace the Lemon8 community and immerse yourself in a world full of new discoveries every day.
Artistic Creativity: With Lemon8, your creative expression is limitless. Whether you're a musician looking to share your music or a photographer looking for inspiration, unleash your artistic side and celebrate your unique work.
Genuine Relationships: This app gives you the opportunity to build authentic relationships with others that inspire and support your lifestyle without the superficiality that can be found on other platforms.
Privacy Policy: Lemon8 respects your privacy and offers a friendly-user experience when customizing your privacy controls. Have a stress-free experience and feel confident in the fact that you have the power to have the content you share to only be seen by those you want it seen by.
Lemon8 is a breath of fresh air in the world of social media, offering a more positive platform that promotes authenticity, meaningful interactions and user-friendliness. While Lemon8 is younger than its competitors, it's showing some promising potential for those looking to express themselves and consume like-minded, lifestyle content. As users seek platforms that align more with their values, Lemon8 has created a brand for itself as an option for those craving a genuine social media experience.
If you're struggling with connecting to your audience, defining a brand that tells your story and showcases your values through social media, send us a message! With our services, we can help bring your social media presence to life and captivate the audience you want to drive the results you want.