Skip to Content
What is Inbound Marketing?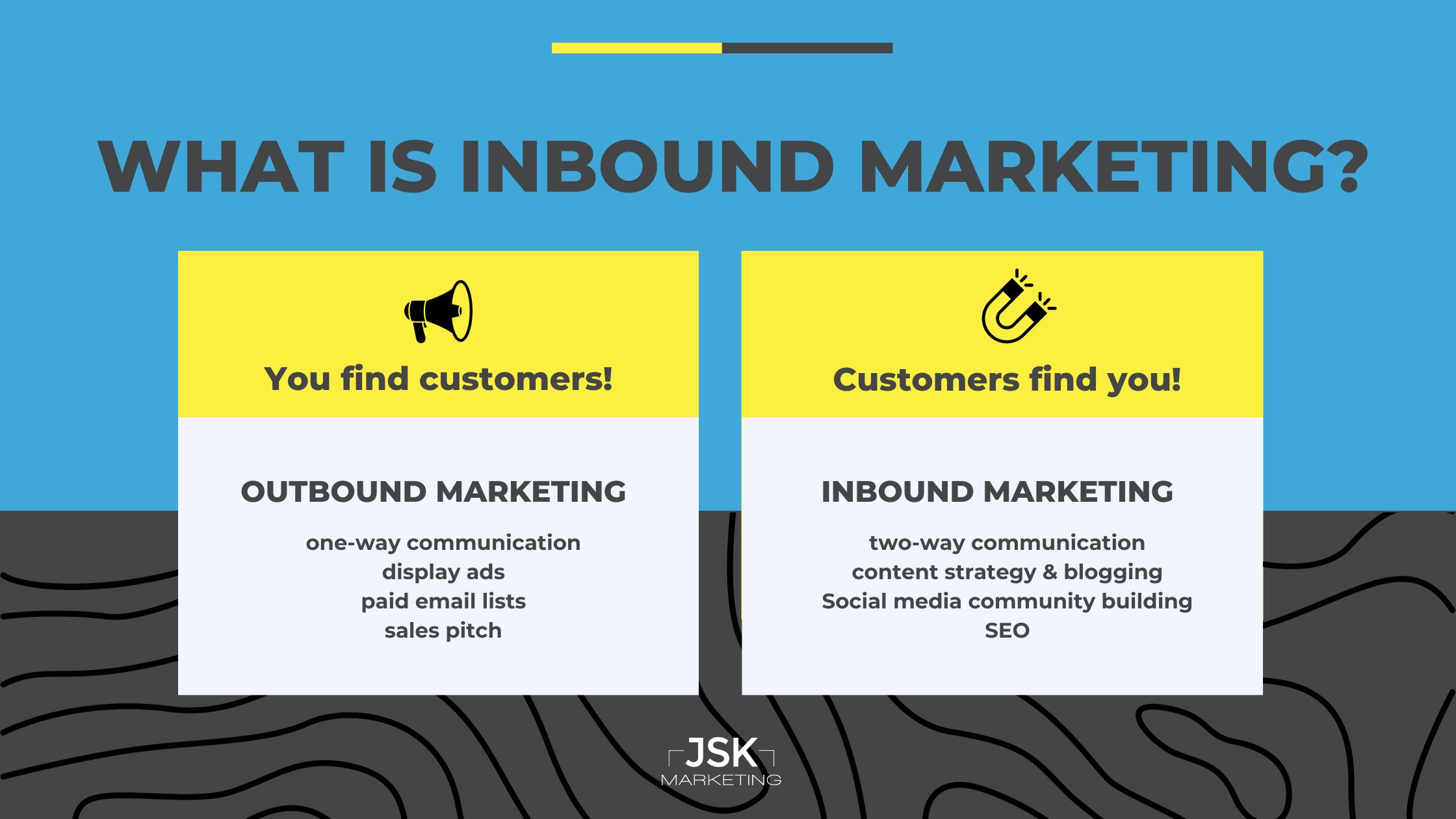 Inbound marketing – it's a term that you've more than likely heard once or twice, but what does it mean and what does it do? Inbound marketing refers to a method of pulling new customers into a product or service that you offer through branding, social media, SEO optimization and content marketing. The difference between outbound and inbound marketing is that instead of choosing print ads, billboards and TV or radio commercials to bring customers in (outbound marketing), inbound marketing says, "we're going to let the people come to us." Simply put, outbound marketing pursues customers, while inbound marketing leaves a trail for them to follow. How does it work? Keep reading to find out. 
How does Inbound Marketing work?
In recent years, inbound marketing has become more popular than traditional marketing and will likely continue to be at the top as the internet-based world continues to evolve. Inbound marketing involves a multitude of techniques to create meaningful connections with new and existing customers and grow your business. It can be applied in three ways: 
Attract
Creating valuable content for the right people will establish you as a trusted partner thus resulting in more people wanting to engage. This comes in the form of blog posts, social media updates and videos. 
Engage
Once you've caught your audience's attention, you must get them to engage. You must nurture your new clients and leads and build relationships with them. Email marketing and other interactive and personalized content are effective ways to get your audience to engage.  
Delight
Go above and beyond for your customers. When they succeed, your business succeeds. But it doesn't stop there (in our best infomercial voice – which is a form of outbound marketing). When you provide support and resources, even after their purchase journey is complete, it will empower your customers to choose you again every time.  
The Benefits of Inbound Marketing
Inbound marketing has grown in success and popularity for a reason. Companies are finding greater success through their inbound marketing efforts than their outbound, making it the most appealing strategy. But what makes it so appealing?  
First, everything that inbound marketing utilizes is on a source that people use every day – the internet. This maximizes potential exposure, changes buyer behavior and generates quality traffic since consumers are now actively searching specifically for your brand and to buy online.  
Inbound marketing is also content-heavy. This is a key benefit because it involves producing content like emails and social media posts for SEO on platforms that your audience uses, enticing them to seek out your company, instead of you chasing them.  
Finally, inbound marketing is more cost-effective than traditional or outbound marketing, making it more immediate and longer lasting than traditional marketing.  
Many people associate distrust and impersonal qualities with outbound marketing techniques. Inbound marketing has created a simplified way to sell and market products that leave customers feeling valued, thus increasing loyalty and trust between customer and company.  
Inbound marketing has the power to change your company for the better. Once you start seeing results in traffic quality, sales and brand exposure, you won't want to stop. If you're feeling inspired by the power of inbound marketing, let's chat! We'd love to discuss strategy and how we can help you reach your business' goals.