Skip to Content
The Top 4 Reasons Why Your Business Should Be Blogging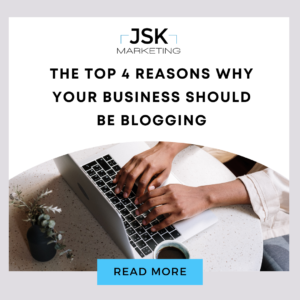 For many years, marketers and businesses have been throwing the same question around year after year: is blogging truly dead? The short answer is no, blogging is still as relevant as ever, but the way blogs are used today are much different than over a decade ago.
When blogging began over 20 years ago, most anyone with some spare time could easily create a basic website, publish a handful of blogs, and gain a lot of web traffic. Today, in order to successfully grow a blog, you need a significant amount of time, effort, and a well-articulated content strategy.
As a business owner, if you aren't already blogging on a regular basis (or at least outsourcing it), you may want to strongly consider adding a blog to your digital marketing strategy plan. In this blog post, we will highlight the top 4 reasons why your business should be blogging today.
Drive Traffic to your Website and Boost SEO
Over 4 billion people worldwide are connected to the internet today and approximately 75% of them read blogs on a regular basis. With stats like those, it only makes sense to capitalize on adding blogs to your marketing strategy. Blogs can be a vital source of information for many people since they are able to provide more in-depth detail that social media content or ads cannot.
Blogging is a great way to attract new traffic to your website and also optimize your site for search engines. If you consider how many pages are on your current website, you probably aren't updating them that often or on a consistent basis. Blogging is an excellent way to add fresh content to your website on a regular basis. Also, every time you hit the publish button on a new blog, you gain one more indexed page on your website and another opportunity for your content to show up on the search engine results page (SERP). That's a win-win in our book!
You Can Repurpose Blog Content for Other Platforms
In addition to the possibility of leading potential customers to your website, over time, you will also have an endless supply of sharable content that can be used for a variety of other platforms.
For example, regularly blogging for your business can help you get discovered on social media. Each time you create a new blog post, it gives your audience the option to share on Facebook, LinkedIn, Twitter, or Pinterest, which can also help expose you to new audiences.
When you write blog posts with several of your various audiences in mind, you will never have trouble posting relevant information for your followers again. Your online marketing strategy should work hand-in-hand with your messaging across all platforms, and blogging is another great way to add enriched content overall.
It Helps Convert Traffic to Leads
Now that we have established a few ways to lead new visitors to your website, what will you do with all that new traffic? Just like each new blog post that you publish creating another indexed page, each new post also gives you the opportunity to generate new leads, by adding a call-to-action (CTA).
Just about 99.9% of our blog posts that we publish on our site always have some sort of CTA, and yours should too! Many times these CTAs can lead to simple things like a free offer, webinars, asking to share on social platforms, or other content where someone would be willing to share their information. Not all of your readers will become leads, and that is perfectly normal and okay. Making it a practice to add a CTA to every blog post though, will up your chances significantly.
Blogging Positions Your Brand as a Thought Leader in Your Industry
When you blog for your business on a regular basis, you begin to position your brand as an expert in your industry. Blogging is a great way to share new trends that can impact your customers, share creative tips and tricks specific to your industry, or an additional way to educate your customers.
If you strive to genuinely help your customers and offer a helping attitude, you begin to gain trust with your followers which always comes back around in a positive way for your business by referrals, positive reviews, and continued engagement.
As you can see, there are many amazing benefits to blogging for your business, so what's keeping you from getting started? If you don't currently have the time during your busy schedule to specifically dedicate to blogging on a consistent basis, our creative team would love to help! Contact us today to learn how we can support you.