Skip to Content
The Social Media Platforms that Matter for B2B Marketing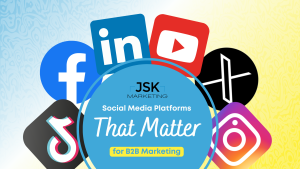 Social media isn't just a playground for B2C brands; it has also become the secret tool that is powering many B2B marketing strategies. Picture this: a world where hashtags and handles, tweets and posts become more than just words – they become pathways to professional success. With there being so many diverse social media platforms out there, it can be difficult to know which ones to invest your resources into. In this blog post, we'll look at the top social media channels and their effectiveness and impact for B2B companies.
LinkedIn
With over 750 million users, LinkedIn isn't just a platform – it's where B2B marketers converge, share and make things happen. Did you know that most Fortune 500 decision makers and executives like to spend their spare time here? According to LinkedIn's Marketing Solutions Blog, 61 million LinkedIn users are senior level influencers and 40 million are in decision-making positions. Also, 80% of B2B marketing leads come from LinkedIn. From a B2B perspective, being able to target the right people hasn't been easier since this is where they're spending their time looking for valuable content.
For more specific examples, check out our recent blog post on how to effectively use LinkedIn for B2B marketing.
X (Twitter)
Twitter or X? We're not sure what to call it right now. It's not just about tweets, it's the place for real time connections and conversations. With over 450 million active users, B2B companies can use Twitter to share industry news, live tweet events and engage in direct conversations with potential new clients. Twitter also focuses on quality content rather than number of followers. One way to utilize Twitter as part of your B2B marketing strategy is to take advantage of the new topic tag bar to better organize your feed and create content based off trending topics.
YouTube
YouTube isn't just for makeup tutorials and cat antics – it's a visually appealing platform that allows you to showcase everything about your brand. Short videos might be taking over on platforms like Instagram or TikTok, but we can't forget that long form videos still play a huge role in B2B marketing. Long-form videos are an effective way to show, not just tell, your brand message. You can create informative content, such as product demos, tutorials or repurpose other forms of content. However, YouTube isn't just a social channel, it's a search engine too! To learn why, check out our most recent blog post.
Facebook
Facebook is the most used social media platform with over 1.84 billion daily active users, which means if you're trying to reach a wide audience and find opportunity, Facebook should be a part of your marketing strategy. Facebook found that people who hold decision-making positions spend 74% more time on the platform than other users. Facebook offers capabilities such as Facebook Live, Facebook Groups and Facebook Watch to get other businesses involved in conversations and connect them directly to your brand.
Each platform has different qualities that make them unique and offers distinct ways to engage with professionals, showcase expertise and nourish connections. By adding these platforms into your B2B marketing strategy, businesses can effectively reach and resonate with their target audience. However, none of this matters if value is not present in your posts, genuine connections and relationships are not made, and there is not a consistent presence across your platforms. If you're ready to revamp your B2B marketing strategy, partner with us and we can help turn your brand into a viral sensation. Contact us today to get started!