Skip to Content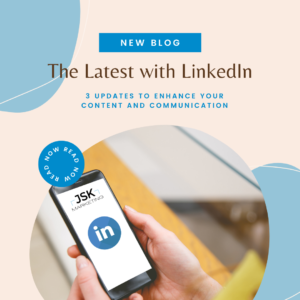 Spark meaningful conversation with your audience with these new LinkedIn updates! With this latest refresh, businesses are now able to take their communication to the next level with pinned comments, post templates, and page commitments. So, what does this all mean? In this blog post, we'll dive into how these 3-page updates can elevate your content to set your business apart.
Pinned Comments
LinkedIn users are now able to pin comments within their comment sections. This update allows your business to set the tone of the conversation by prioritizing a top comment. Your pinned comment can be updated at any time to change the direction of the conversation and keep engagement flowing.  In a recent blog post, LinkedIn states:
"With the help of pinned comments, you can guide the conversation you want to see on any of your brand's posts. Pinning any comment on a post will permanently place that comment at the top of the thread, so everyone who sees the post will see that comment first."
So, how can you use this new feature strategically? The first step is to determine which comment provides unique insights or encourages positive feedback. That way, you can pin this comment to make it more visible, encouraging others to leave their feedback as well- maximizing your engagement.
Post Templates
LinkedIn's new post templates allow you to select from pre-created, customizable templates to create content that stands out in the feed. Focus your audience's attention on what matters most by aligning the template's colors, font, and text with your brand. The post templates are accessible directly through the LinkedIn app. All you need to do is click "new post" followed by "use template" in the options menu. Browse through which templates grab your attention and start getting creative! This new feature makes it easier to create aesthetic content that resonates with your target audience.
Page Commitments
Did you know that 77% of consumers buy from brands that share their values? LinkedIn's latest page commitments feature allows you to showcase your company values to attract not only consumers, but job seekers and potential partners as well. You can include up to five commitments in your featured commitments section, such as:
Diversity, equity, and inclusion
Career growth and learning,
Work-life balance
Social impact
Environmental sustainability
Connect with your audience on a deeper level and express what matters most to your brand by heading to the "about" section of your page and updating your page commitments. To use this feature strategically, you should begin placing content that demonstrates your values beneath each commitment. Examples of valuable content to add to these sections includes:
Videos
Blog posts
Reports
Certifications
Events
Our team at JSK Marketing would love to help you take advantage of the latest updates to boost your brand visibility and integrity. Contact us today to get started!