Skip to Content
The Future of Digital Ads + Spending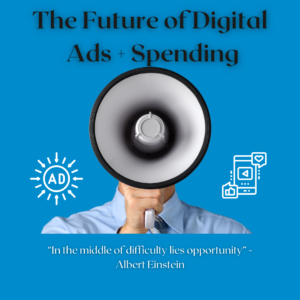 During the pandemic advertisers had to brainstorm new unique eye-catching strategies to meet their audience's needs. When COVID-19 first struck America, everyone was stuck inside, meaning technology was definitely on digital advertisers' side. Traditional advertising, such as TV, also increased by a small percentage, but overall digital advertising took over the business world and continues to thrive post-pandemic. A consistent strategy to success is being able to adapt and excel through all changes.
"In the middle of difficulty lies opportunity" -Albert Einstein
Thriving Through Adversity
According to Insider Intelligence, advertisers pulled back ad spending entirely in late Q1 and Q2. This brought digital advertising front and center as it offered companies a flexible and accountable option during the beginning of the pandemic. Even though digital advertising grew about 18%, traditional advertising, including television advertising, grew about 5.2% as well. An increase in consumers who watch YouTube on a home television significantly contributed to this sight increase.
Digital Advertising Skyrockets
The two most popular ad avenues during this weird and uncertain time are social network advertising and ecommerce channel advertising. As marketers formulate new strategies and adhere to significant budget cuts, social network advertising is a major benefit. Instagram, Facebook, Twitter and other similar platforms all serve as creative approaches to social network advertising, though e-commerce advertising has completely changed the game.
What is e-commerce channel advertising exactly? Also known as retail media advertising, e-commerce channel advertising is advertising integrated within an online marketplace, such as Amazon. As you can imagine, this is one of the fastest growing forms of digital advertising thus far this year.
Declining Advertising Avenues
The expediential rise in digital advertising forced some avenues to decline or become completely obsolete. Out of Home (OOH) advertising came to a screeching halt as soon as the virus hit the United States. Consumers were staying home and mainly engaging electronically. This trend has stayed constant even as things start to go back to normal, causing traditional tactics such as print, radio, and directories to decline. 2020 was a hard year for many people and businesses, but especially for anyone in the traditional communications world. Many marketing budgets were allocated to buying more leads in the digital marketplace compared to connections they would typically make at physical events or through other forms of traditional marketing.
What is the Future of Digital Advertising?
What does the future hold for advertisers and marketing managers? Total media ad spending should increase by 25.5% this year alone. Although we are not totally back to normal, consumers and businesses can expect Digital Advertising to continue to grow. Trends are also showing that TV has a chance of making a comeback for traditional media as well.
JSK Marketing can help your small business adapt to changes in the business world through many creative advertising strategies. If you have questions or are considering digital advertising we'd love to help. Contact us today to get started!