Skip to Content
The Controversy Behind Social Media's New Video Algorithms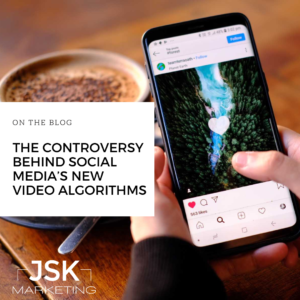 TikTok has grown exponentially in the last few years- and other social platforms are taking note. Let's take a look at the stats.
With 655 million downloads, TikTok was the most downloaded app of 2021…that's over 100 million more downloads than the runner-up, Instagram. TikTok was also the top-grossing app last year, surpassing $2.5 billion in consumer spending. So, what is the secret behind their success? Short-form video content.
Putting video first
As other social platforms started seeing the success of TikTok's video format, they began making changes of their own. Last year, the head of Instagram, Adam Mosseri, posted a video stating that the company is looking to lean into entertainment and video after seeing the success of competitors. He went on to say that Instagram is no longer a photo sharing app and that they are prioritizing video content above all else.
Similarly, Facebook revamped its algorithm to compete with TikTok. Meta CEO, Mark Zuckerberg, described it as a "major shift" from a feed of posts determined by who you follow to one curated by new AI technology that he calls a "discovery engine." Shortly after, Facebook began introducing more features that allowed users to share short videos.
However, for many people, the attempt by Instagram and Facebook to mimic TikTok's success just means they're being offered content they don't necessarily want. In fact, millions of users prefer the original version of the social media platforms…and celebrities agree.
Celebrities push back
Kylie Jenner shared the image below stating "stop trying to be TikTok, I just want to see cute photos of my friends. Sincerely, everyone." Many of her 360 million followers stood behind this statement in agreement.
Adam Mosseri (Instagram's CEO) posted a video to address the backlash. In the video, he states "we're experimenting with a number of different changes to the app, and so we're hearing a lot of concerns from all of you…I want to be clear, it's not yet good. And we're going to have to get it to a good place if we're going to ship it to the rest of the Instagram community."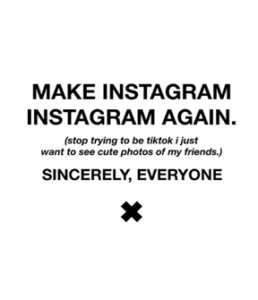 What does this mean for your brand?
Whether you're a fan of the changes or not, in order to be successful in any business, you're going to have to adapt to what's happening in the market. Video content is trending across a majority of social platforms and it's here to stay the foreseeable future. The good news is, it can benefit your company in a variety of ways.
Videos are an excellent way to demonstrate your service or product
Videos provide a high rate of return on investment
Videos build consumer trust
Videos are beneficial to SEO
Unsure of where to begin? JSK Marketing has the experience required to design social media campaigns that will boost your brand and catapult your company forward. Contact us today to get started.