Skip to Content
JSK Marketing Recently Honored at Laurel Awards for Excellence in Marketing for Beacon Lake Community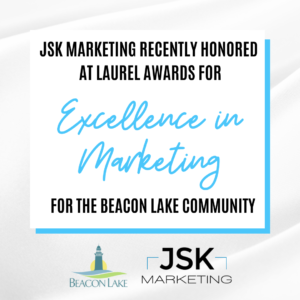 The Northeast Florida Builder's Association's (NEFBA) Sales and Marketing Council honored BBX Capital Real Estate with three Laurel Awards for excellence in marketing for Beacon Lake community in St. Johns County. Lake House, Beacon Lake's state-of-the-art amenity and fitness center, won a Gold Award for Best Community Amenity Center, a Gold award for Best Realtor Promotional Event, and a Silver Award for Best Community Promotional Event. The Laurel Awards are an annual competition recognizing sales, marketing, and design excellence.
(Jenn Kjellman, Bruce Parker)
"We are honored to receive this recognition for the Lake House and for the outstanding events our team presented at Beacon Lake," said Bruce J. Parker, Managing Director for BBX Capital Real Estate, Beacon Lake's master developer. "We appreciate the accolades from our industry peers and we hope it will encourage everyone to visit our community, learn more about living at Beacon Lake and join the hundreds of families that love living here."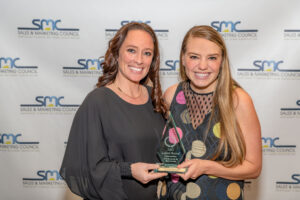 (Danielle Simpson, Jenn Kjellman)
Both of the award-winning events at Beacon Lake were planned and promoted by the JSK Marketing team. The grand opening event celebrated the new two-story, 3,152-square-foot, designer-decorated model home, the Roseberry Elite by Toll Brothers. The community promotion event featured family-friendly activities at every model home in the community and attracted more than 350 visitors. The Realtor promotional event featured a scavenger hunt and social media photo contest and welcomed more than 230 real estate professionals including many who had never visited the community. Both events generated tremendous interest and attracted many new visitors to the Beacon Lake community.
At JSK Marketing, we are passionate about creating quality work that lasts, and prioritize connecting with our clients on a personal level and truly becoming an extension of their team. We always go above and beyond to ensure everything is always at its top level of performance and are honored to have made an impact in the local community through our marketing efforts with Beacon Lake. There is nothing we love more than celebrating alongside our clients in their success and look forward to many more opportunities in the future.