Skip to Content
How to Increase Your Google Business Visibility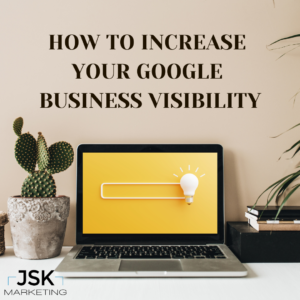 It is no secret that as a business, you are likely to keep a close eye on where you land on the Google search page. And you might wish that it came up a little higher. There are a multitude of ways to increase your visibility and get you in front of the right people, turning them into loyal customers instead of motivated searchers. In this blog post, we'll give you some tips that can help improve your Google Business visibility that won't cost you an arm and a leg.
1.    Make Sure Your Listing is 100% Complete
Keeping your Google Business Profile up to date, accurate, and complete is key. You need to include all relevant information about your business, such as hours of operation, contact information, and services offered.  Some other things to remember when completing your profile are, verifying your business name and address is correct, any special holiday hours, and photography. Receiving a "100% Complete" message from Google will ensure your business profile is listed at a higher rank.
2.    Encourage Reviews and Check-ins
How likely are you to trust a product or service if there aren't any reviews or third-party confirmations that it's legit? Probably not very likely. Encouraging reviews is one of the best ways to raise your visibility because it costs nothing but can do so much to give your business' profile a higher ranking to organic searchers. Reaching out to past customers and asking them to leave honest and detailed reviews is the best tactic. You can do this by simply asking via word of mouth, email, or text message. Positive reviews from customers will improve your visibility and credibility.
3.    Avoid Spammy Tactics to Hide Bad Reviews
Everyone knows that Google is the largest and most robust search engine on the planet, and it knows when someone is trying to cheat the system. People trust real, honest reviews from real people, so paying websites to write positive, five-star reviews for your business will only hurt you in the end. In fact, Google is so smart that it will flag when these fake reviews are placed on your business profile and mark your site as "Dishonest". This results in a popup placed on your site for visitors warning them to not trust it. Instead of engaging in these kinds of tactics, be prepared and respond diligently to bad reviews as they arise. And when they do, reach out to those customers to apologize and empathize. This will show other potential customers that you care and will actively take steps for a better experience in the future.
A well optimized Google Business Profile can be a powerful tool for driving more business and reaching more customers. By following the tips above, you can help ensure that your profile is complete, accurate, and engaging, which can help your business stand out on online. Remember to always keep an eye on your profile and update it regularly. If you're ready to grow trust and credibility in your business, let's talk! We can help boost your business' rankings and get you to the spot you deserve.