Skip to Content
How to Effectively Use LinkedIn for B2B Marketing
For a long time, LinkedIn was mostly considered a job search engine. Not anymore. LinkedIn is known as one of the fastest growing social media platforms and as a powerful place for B2B marketing. B2B marketing is the process of marketing a product or service to another business, rather than the end consumer. With over 750 million users, LinkedIn is the biggest platform for a community of professionals, many of whom play a role in the decision-making process for their company. In other words, there's a pool of potential customers for B2B companies. So how do you use LinkedIn for B2B marketing? Keep reading to find out.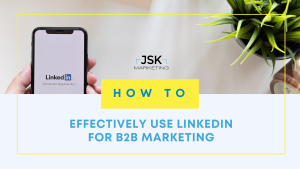 Optimize Your Company Page
Potential clients and companies who come across your page on LinkedIn will more than likely head over to your company page to learn more. When they get there, they expect to find key information about your business and how you can help them. Some things to include to improve your page's performance are:
Craft a brief, but impactful summary of what your business does and don't forget to include keywords to make your business more discoverable.
Include a captivating "About Us" section that emphasizes your mission, vision and purpose.
Make your page eye-catching! A graphically appealing cover photo will draw more people to your page, show personality and make your business stick out amongst your competitors.
Create Valuable Content
When it comes to content, it's quality over quantity. It's better to focus on your specialties rather than spam your follower's feeds with unimportant and unenticing information. Try experimenting with different kinds of content such as opinion posts, webinars, presentations, graphs/charts and other high quality thought leadership posts. It's also important to experiment with different kinds of media in your posts like videos and photos, as media centered posts outperform text only posts.
Ads, Ads, & More Ads
Targeted ads will get you in front of the right people at the right time, and investing in paid digital advertising can expand your normal reach to your audience. You can target your ads to people with specific job titles or even to people who have visited your company page in the past.
Encourage Company Engagement
While it is essential to establish your company's presence LinkedIn, the best way to make your B2B strategy a success is by having your employees comment, like and share company posts. They are the most credible source of information since they work in the industry every day. Encourage employees to share their professional insights and thoughts on their personal profiles as this helps the content come off as more authentic as compared to a company profile sharing the same content.
Like any other social media platform, it takes time and experimenting to find out what works best for your brand. These tips can help you get started quickly so you can promote your business and ultimately sell your products/services. We offer a wide range of techniques to help you increase your reach in new and existing markets with ads, social media and more! Contact us today to get started building your B2B marketing strategy.