Skip to Content
How TikTok Can Help Your Small Business Grow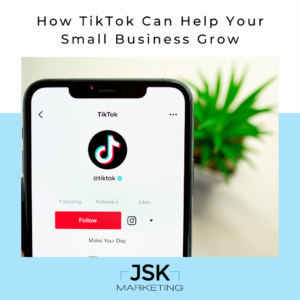 Founded in 2016, TikTok has grown in popularity over the past few years, offering valuable content and information for over one billion monthly users (and counting) in over 150 global markets. Known as one of the top 5 downloaded apps in the world, TikTok has definitely made a name for itself in the social media realm and provides small businesses an opportunity to use the platform to expand their reach and connect with an engaged audience.
By incorporating TikTok into your marketing plan, you can solidify brand recognition, highlight products and services, and connect with your audience in a way that can build loyal, lifelong customers. Here are a few ways TikTok can help your small business grow.
Create Interesting and Authentic Content
On the surface, TikTok might seem like an app for pre-teens, but in reality, the platform has practically become a game changer in the social media marketplace. Small businesses who aren't utilizing the platform are likely missing out on an opportunity to truly engage and expand their audience.
Consumers today are increasingly seeking authentic, engaging content that is fun but also relatable. Creative, short-form video is gaining traction and taking over the social media marketing landscape causing many social media platforms to make shifts in their algorithms to favor this change.
Most of today's users want trustworthy interactions online from real people with real experiences, so building a platform that is transparent and responsive is really important in order to stay relevant with your audience today. Once you become acclimated to the app and begin to understand popular trends and messaging that resonate best with your target audience, you can begin to create videos that support your brand's messaging in a new and fresh way. There are many ways to stay on brand and become an authoritative thought leader on the app, providing useful information and expertise that is relevant to your specific market and connects to users in a genuine manner.
For example, a professional chef can create short videos showing behind-the-scenes clips of their upgraded kitchen, five tips for making the perfect appetizer, or the top kitchen gadgets that are most useful to add to your home collection. Audio selection and effects can also go a long way in transforming what could be mundane tips and tricks into fun and entertaining content.
Engage and Connect with Your Target Audience
TikTok also offers many ways to tap into content that your target audience really wants to see without spending a lot of money on advertising. If you are consistently posting fresh content, the TikTok algorithm will display your content to more people, just like any other social media platform.
Research some of the topics your specific audience is interested in and brainstorm ideas around some of the conversations you are seeing. Connect further with your audience and deepen relationships by actively engaging with your followers, asking questions that will prompt a response or reaction.
One of the most popular ways to easily attract potential consumers is incorporating hashtags that are popular and relevant to your specific industry. Hashtags on TikTok work just like any of the other social media platforms, allowing your content to be discoverable to those who aren't already following your brand. Keep in mind that TikTok is mostly used for entertainment and is not a hard sell, so use hashtags strategically to get your audience's attention. Better visibility leads to higher engagement rates overall.
Expand with TikTok Ads
One of the great advantages of using TikTok is not needing to spend a lot of marketing dollars on videographers and editors to create useful and polished content. Money typically used for production can be reallocated to advertising instead, which can be filtered by age, gender, and location and can give small businesses a direct way to communicate with their target audience and more quickly grow their following. TikTok has four main ways to advertise:
In-feed ads: Similar to the ads you see in Instagram stories, these ads play in between user content and support clickable features like website links and app downloads.
Brand takeovers: Your brand can "take over" TikTok's main feed for the day. These ads use images and videos with embedded links to landing pages.
Hashtags: You can sponsor a specific hashtag challenge and advertise on the Discover page or add promoted hashtags to your regular content to boost engagement.
Branded lenses: This is a specific type of filter that your business can design for users to add to their videos, similar to what you see on Snapchat and Instagram Stories.
Paid advertising is a great way to market your business and grow your audience online. Diversifying the digital advertising platforms your business uses can place you ahead of the competition while also allowing you to stay connected with your target audience.
While TikTok might not seem like the most strategic place to concentrate your marketing efforts, the app is growing at a rapid pace and many small businesses can take advantage of a great opportunity to engage with and expand your audience. Take all of the guesswork off your plate and allow our team to create the best social media strategy for your business today. Contact us to learn more!