Skip to Content
How TikTok Can be Used for B2B Marketing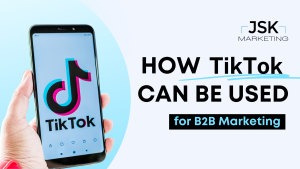 TikTok – the platform known for its catchy sounds, viral dances and makeup transitions. However, it's more than just a space for fashion trends and discussions about Taylor Swift's The Eras Tour – it's a platform that has revolutionized the way B2C brands interact with their customers. Can TikTok do the same for B2B businesses? When it comes to the awareness TikTok brings, it might just be the platform that B2B marketing strategies need. Let's find out.
The Brand Personality
TikTok is the perfect place to show off your quirky company culture. Highlight your team's personality, create "a day in the life" video, give an office tour and share the laughter-inducing moments that make your business unique. Everyone is drawn to a business that has personality and isn't afraid to show it. By letting your audience see the playful side of your business, you're showing that it is approachable and unforgettable.
Learning Opportunities
Time is of the essence, and so is knowledge. TikTok is made for short-form video content, so creating snippets of educational videos and balancing those with entertainment, creates an opportunity to educate your audience, while also turning them into eager, informed followers who can't wait to see what you'll share next.  Imagine sharing quick explanations of industry trends, explaining intricate processes or sharing tips and tricks that can benefit your target audience. These short bursts of information leave a lasting impact without overwhelming your viewers.
Post Multiple Times a Day
If you're worried about spamming your audience by posting multiple videos a day, don't be. With how TikTok's algorithm is set up, it's nearly impossible to overwhelm your audience with content, as some of the strongest social media campaigns are more than just a one and done project. Posting more frequently helps your brand stay on the radar of your audience and maximizes your reach. This increases your chances of capturing their attention and reaching a broader audience since users are on TikTok at different times.
Trends
TikTok thrives off trends and hashtags, and so can your marketing strategy. When you create content using viral trends and hashtags, you're targeting the right people too. For example, if you type in the hashtag #corporate into TikTok's search bar, you'll find a multitude of videos of people poking fun at the corporate lifestyle, from email signature signoffs to zoom call backgrounds. Corporate TikTok is on the rise as people continue to take a lighthearted approach to the norms that come with working a 9-5. By participating in viral trends and using relevant hashtags, you're hitting the sweet spot of people who hold decision-making positions. And who knows, your video might just go viral.
So, the answer to the above question is yes! TikTok is a marketer's playground and its potential for B2B marketing success should not be underestimated. Incorporating TikTok into your marketing strategy could be the innovative edge your brand needs to stand out and create meaningful relationships and connections with potential clients, partners and industry peers.
We understand that each B2B business has its own unique identity and audience, and we can be your strategic partner in this exciting journey. We can create a content strategy specifically tailored to your business' personality. From brainstorming video ideas to outlining a social media content schedule we'll ensure that your TikTok channel becomes a go-to place for industry insights. Contact us to get started today!