Skip to Content
How Customer Reviews Can Improve SEO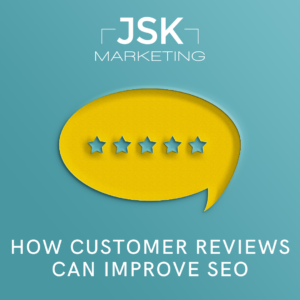 Believe it or not, customer reviews aren't just for show, they can also boost your SEO when used effectively. In fact, Google has mentioned in the past that reviews are the fifth most important ranking factor when it comes to determining search engine results. With Google constantly changing and evolving, customer reviews are one of the many tactics you can use to stay relevant and succeed in the online marketplace. In this blog post, we will discuss some of the many ways customer reviews can benefit SEO and improve your Google rankings overall.
Reviews Can Help Your Site Rank with Long-Tail Keywords
One way your brand can really stand out from your competitors is long-tail keywords which are basically three or more word phrases specific to your product and the user's search inquiry. For example, someone searching for a "black cocktail dress" is more likely to use that longer, more specific term as opposed to something more vague, like "black dress". If you are already using long-tail keywords on your product pages, the likelihood of a conversion will be even higher considering you are offering exactly what the customer is looking for.
Usually, when a customer leaves a review, they use these longer search phrases to describe their purchase, making it more likely for a future customer to find your page on a later date when using similar search language. High-quality customer reviews result in a higher trust value with Google, sometimes even higher than your own website!
Reviews Can Increase Website Traffic
With the increase of online shopping over the past few years, more than 80% of shoppers start their product search online, and most of the time search engines will be used. Today, when a shopper types in a specific keyword, they are inundated with thousands upon thousands of search results giving brands only a matter of seconds to grab a shopper's attention and encourage them to click-through to their website. Having reviews already available on your website can allow your products to stand out against competitors and give your business more opportunities to reach potential customers at the most critical stage of the buying process.
Oftentimes, people are more likely to visit a brand's website after reading positive reviews, which can ultimately give your site a boost in traffic, another key factor in ranking higher on the search engine results page (SERP). Positive reviews build brand trust and also increase buyer knowledge about your products and services, encouraging people to spend extended times browsing your website long enough to be convinced into making a purchase.
Reviews Create New Content for Search Engines
Search engine crawlers are always looking for fresh content on the internet, and customer reviews are a great way to continually add new content to your website. Whether good or bad, every time a customer leaves your business a review, Google is provided with fresh content to crawl, and more importantly, new keywords on your products, services, and even location. This ultimately helps Google gain better context on what your business has to offer and ultimately boosts your rank on the search engine results page (SERP).
Responding to all customer reviews not only helps further improve your SEO, it's also a great practice in building deeper relationships with your customers. Each time you respond you are adding in additional keywords that can help you rank higher than others and also shows Google that you are a credible business.
Now that you have learned a few new ways customer reviews can improve your SEO, it's time to put those reviews to work! In summary, an increase in high-quality reviews generally lead to more website traffic, higher search engine rankings, and eventually more leads and sales. If you haven't already started incorporating customer reviews into your current SEO strategy, let's talk! Contact our team to get started today.