Skip to Content
Google's Top 3 Ad Priorities in 2022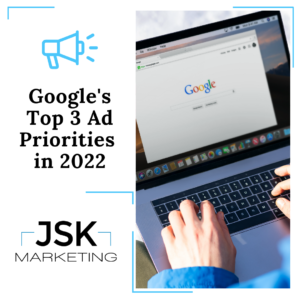 Earlier this year, Google Ads announced their top three priorities for 2022: automation, measurement, and privacy. As buyer behavior continues to shift throughout the pandemic, people are finding new ways to use technology to discover products and brands. While many of these top priorities aren't new to the marketing world, Google is changing the way they are focusing on each one in order to help organizations respond, deliver, and grow according to their greatest business needs. Here is a run down on how each of these priorities can help your business in 2022.
Automation Creates New Opportunities for Growth
Jerry Dischler, Vice President and General Manager for Google Ads, says that "readiness, speed, and agility have been critical for managing complexity and driving growth in these uncertain times." As a result of this, many advertisers have been turning to automated bidding to free up time and improve ad performance. Google suggests emphasizing the use of Performance Max and Discovery campaign types, allowing the focus to reach users at scale from a single campaign. When using single channel campaign types like Search or YouTube, Google recommends Smart Bidding, responsive search, and broad match keywords.
How the Future will Impact Measurement
It's no surprise that accurate measurement of analytics has been challenging for many advertisers this past year. With the impending removal of third-party cookies, the iOS 14 update, and more, many businesses will need to find new approaches to measurement to ensure continued success. Google is rolling out new privacy solutions that will rely on first-party data and privacy-safe APIs that will include enhanced conversions, consent mode, conversion modeling, and data-driven attribution. These solutions will appeal to the needs of both users and advertisers, allowing user privacy to remain a top priority while also catering to the need for advertisers to accurately track their campaign efforts.
Exceeding Expectations for Digital Privacy
As the digital landscape grows and more users rely on technology to navigate everyday life, the risk for a breach in privacy becomes even higher. Thankfully, Google understands this increasing need for user privacy and control and has updated their privacy playbook to appeal to both users and advertisers. While it's really important that businesses continue to cultivate and build close relationships with their customers, it's also important that they understand their data is safe and that they are able to maintain some sort of anonymity. Some key points to understand from this playbook are ways to build direct relationships with customers, ensuring measurement remains accurate and actionable, and ways to keep your ads relevant. When it comes to building a more direct relationship with your customer, you will be able to capture first party data for more one-on-one communication, such as through email marketing or in-app messaging.
As we all continue to navigate the many changes with technology that have occurred over the past few years and adjust our business and marketing strategies to match, we hope these tips and priorities from Google will help unlock new opportunities for growth for your brand. Our team at JSK Marketing is ready and available to help review and discuss your marketing strategy and find ways to adapt in this fast-paced environment through creative advertising strategies. Contact us today to hear more