Skip to Content
Google Ads Updates You Need for Your Holiday Campaign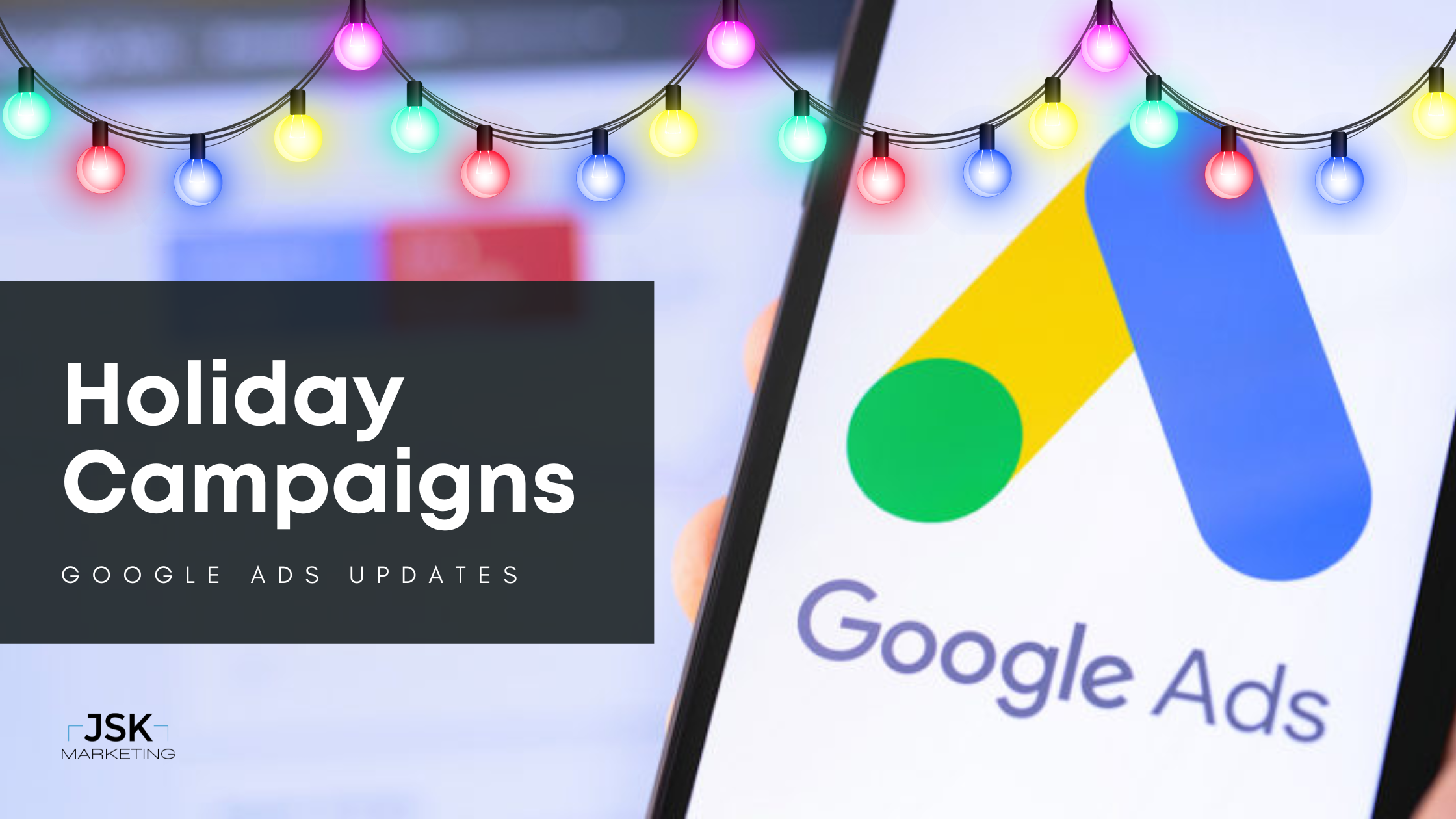 'Tis the season for holiday ad campaigns! The holiday season is just around the corner, and that means that shoppers are working on their lists (and checking them twice). It also means it's time to ramp up your advertising efforts. Google Ads have released and unwrapped some exciting new features that will help your campaigns be merry and bright. Let's dive into these updates so you can create a campaign that will become a special gift to your audience.  
Ad Customization
Personalization is to ads as the Hallmark channel is to the holiday season. Google Ad's Ad Customizers is a new feature that can help you personalize and create intentional connections with your audience. This feature allows you to insert special offers, prices and promotions into your ads. For example, if you're running a holiday ad campaign, the Ad Customizer feature will automatically update your ad copy with a countdown to show how many days are left until the offer expires. This promotes a sense of urgency and motivates your audience to take advantage while they still can. Personalization will make your ads feel like a warm and inviting holiday card. 
New Customer Acquisition Goal
The new customer acquisition goal feature allows you to efficiently deck the halls with new customers while also engaging existing customers through your Google Ads campaigns. The primary perks of this new feature include more customer conversions and giving your business a jolly boost in revenue. Plus, it helps you manage your budget wisely, keeping costs in check and tracking new vs. returning customer conversions. It's as simple as enjoying a cup of hot cocoa by the fire.  
Local Inventory
For brick-and-mortar businesses, Local Inventory ads act as Santa's GPS, guiding shoppers to you during the holiday rush. With the new update, Local Inventory Ads have dramatically reduced the onboarding time, almost as fast as Santa and his reindeer get around the world on Christmas Eve. They've also unwrapped a brand-new local store unit ad format that blends inventory data from your local product feeds with imagery and details from your business profile. It's the perfect gift to make your store shine brighter this season.  
Videos and Performance Max 
We can't forget about videos. Now is the time to strategically share holiday gift guides and create video content that will spark ideas for Christmas wish lists. Advertisers that used at least one video in their Performance Max campaigns saw an average increase of 12% of total new conversions. To convert consumers from YouTube, Performance Max will start using images from your feed to unlock more inventory and formats. These images will also help to improve the quality of your videos.  
Included with the new update, the Performance Max expanded access to the top search slots! This enhancement comes with a new format that not only shows business hours but also encourages customers to do their Christmas shopping locally. It prompts them with helpful directions and phone numbers for when they're searching for holiday goodies near them. 
With all these new updates, Google Ads continues to be your trusty holiday companion, and staying up to date with the latest features and tools will help you sleigh your campaigns this holiday season. Don't forget, just like any holiday planning, early strategizing and smart implementation are key to a successful holiday campaign season.  
Not sure where to start? We're experts in lighting up our client's holiday ad campaigns like a Christmas tree! When you partner with us, we help you unwrap your business' full potential. Don't miss out on making this season truly special for your business. Message us today!