Skip to Content
Clubhouse: Should it be a part of your Marketing Plan?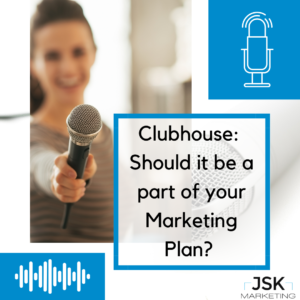 Clubhouse is a new form of social media that is storming the digital community exponentially. This fun and fresh platform is an audio-only based social platform that allows people to host chat rooms, that selected users can join. There are many ways to use this application; you can simply listen in or you could also get called on as a participant in the chat. The app also allows you to view who is participating in each discussion, while also being able to bounce to different rooms that are catered to your specific interests.
The app began to gain traction when different celebrities started to utilize Clubhouse. For example, Tesla founder, Elon Musk, made a clubhouse appearance and broke the 5,000-person limit for a room. Other celebrities, such as Bill Gates, Drake, and Tiffany Haddish, have also made appearances on Clubhouse. Because of the ongoing popularity and limited space in popular chat rooms, the audience connected other live streams and secondary listening rooms to follow the conversations.  Also, Mark Zuckerberg, the founder of Facebook recently joined a Clubhouse chat, and during quarantine, Clubhouse hosted a live reading of the Lion King musical. Another feature that sets this app up for success is the fact that it is extremely exclusive, you have to have an invite to join in on discussions.
Clubhouse's continuous growth is a strength and a weakness. In December 2020 they had about 600,000 users but their audience grew to 2 million in just over a month and continues to grow as time progresses. The exclusive wall creates more hype, which elicits FOMO, or the fear of missing out, in social media users. Some people are even selling invites on eBay for up to $125 each. Clubhouse has currently been valued at $4 billion, in its new round of financing led by Andrew Chen of Andressen Horowitz. Although the growth is rapid, it poses many threats as well. Its increase in popularity is equal to the growth of live streaming in 2015. An example of destruction after expediential growth is the app Meerkat, the first live stream app introduced in 2015. Meerkat grew to have 2 million users, but when mainstream social media platform Twitter introduced Periscope, Meerkat was left in the dust. Meerkat soon became obsolete, and Twitter took over that live-stream market.
The Clubhouse team continues to improve their platform by improving and updating all aspects of the platform. During Clubhouse's weekly townhall event they announced that an Android compatible version of the app is officially in beta testing.  They will also be making strides to improve content discovery and user safety, as it is hard to censor live chats. Future features also include: subscriptions, tipping services, and ticket sales for in-app discussions. This will allow the app to remain exclusive while also weeding out a less engaged audience. There are some mainstream competitors, as they have seen extreme growth in the past year. Twitter has created Spaces, Instagram has 'Live Rooms' and Fireside is an audio-only-based platform that allows music sharing through Spotify. Reddit also came out with a generic form of this app called 'Reddit Talk' but even in recent months Clubhouse has not been affected.
The benefits of this social media platform outweigh the few disadvantages it presents, but in regards to marketing a small business, the possibilities are endless. The simple nature allows you to generate discussion while also creating community among your target audience. Clubhouse's exclusivity allows businesses to reach their target audience without wasting time or money on an uninterested audience. Overall, Clubhouse is a clever and unique way to grow your business, while creating a loyal, engaged community. JSK Marketing can help educate you on business tools like Clubhouse, contact us today!