Skip to Content
Built Different: How We Strive to Stand Out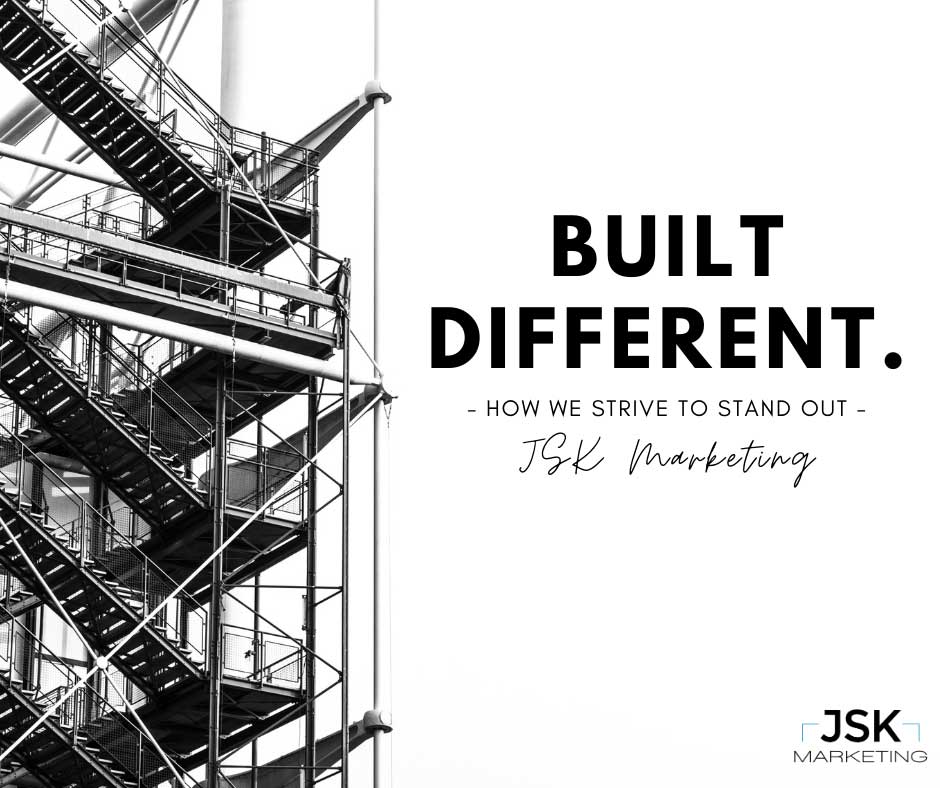 At JSK Marketing, we understand how difficult it can be for consumers to find the right marketing agency that suits each of their individual needs. To help you in your process of finding the best agency for you, we've laid out the main ways that we as a company strive to stand out amongst other agencies. We also believe it is important for consumers, in general, to know exactly what they're getting when they join the JSK family and why we truly are built differently.
On The Clock
In a fast-changing world of constant demand, we know you're always on the clock. As a result, timeliness on our part is something we strongly emphasize the importance of, especially in communication with our clients. We personally make it a goal to never allow more than a full 24-hour business day to go by without a response. However, we always will make a strong effort to respond within 1-2 business hours.
We recognize that your time is precious, and we will do whatever it takes to ensure you are getting everything you need and more by the time you need it. Once you start a relationship with us, we center it around trust. We never want to cause you to waste time that could be better spent somewhere else.
Part of The Team
Another aspect of our partnership with our clients is that we value your company as much as we value our own and ultimately desire for us to succeed side by side. We make sure not to view ourselves as just a vendor for your company. Rather, we genuinely want to inundate ourselves into your company and become a part of the team.
How exactly do we do this? By passionately investing our time to adopt your mission and culture right from the get-go. While it does increase the time of our onboarding process, the sacrifice is more than worth it for us to be able to fully identify who you are as a company and what best suits your specific needs. We take time to check in frequently so that we are consistently up to date on everything happening in your world, as well as what we can do to help.
Minds of Service
How are you receiving the utmost value in return for your investment with us? That's exactly what we want to know. Our service-first marketing orientation fights for each and every one of our clients to feel authentically cared for day-in and day-out. Knowing your company to the best of our ability allows us to exceed expectations and serve your company well.
We want the final product you receive to be exactly what you originally envisioned while keeping the process from feeling arduous or lacking cohesive vision. Our relationship with our clients is not limited to simply checking off boxes. We want to make your experience with us a positive and helpful one where we go above and beyond to be entirely sure everything is always at its top level of performance.
Crystal Clear
Finally, we at JSK Marketing separate ourselves from the pack by our never-ceasing push to be 100% transparent at all times. Honesty is one of the core foundations that we must establish in order to maintain long term relationships with our clients. We always want to know that our clients fully trust us to do everything we say we're going to do. To build such trust, we strive to be extremely open about everything that's working as well as everything that's not. Although, we don't just stop there because we want to find you the alternative solutions to whatever it maybe that is not working.
We also want to make it known that we know we are by no means perfect and will be completely transparent if we make a mistake. Our clients are given full access to the systems we use to execute their specific marketing initiatives, so that they know everything that's going on, leaving no room for potential doubt. Our company cares deeply for yours to achieve the best return on investment possible, even if it comes at a cost to ourselves. We long to be crystal clear in every aspect of our solution process and want you to feel confident that you are getting above and beyond what you originally expected from us.
Are you interested in becoming a part of the JSK family? Learn more about how to get started by contacting us today! We cannot wait to help you be built in a way that stands out from your competitors too.