Skip to Content
Are You Prepared for Google Analytics 4?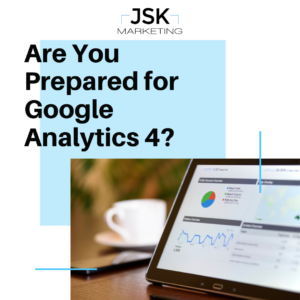 This past March, Google officially announced that they will begin sunsetting Google Analytics (Universal Analytics) properties beginning July 1, 2023 and requiring all users to upgrade to Google Analytics 4 (GA4). Online technology has evolved a lot over the past several years, with many users' online journeys becoming more complex and spread out over several platforms and devices, creating a need for Google to come up with an adapted way to track data more accurately. While this upgrade isn't a complete overhaul, there are some significant changes to how you collect, store, and analyze your data that you can prepare for now before this change happens next year.
Why You Should Start Preparing for GA4 Now
As mentioned above, you will be able to use Universal Analytics until July 1 of next year, but after that date, UA will no longer process any future data. We highly advise to go ahead and make the switch sooner rather than later so that you can begin collecting data on the new GA4 property. Doing this now will ensure you are collecting any important historical data before it's time to officially make the switch. Thankfully, this new property can coexist with Universal Analytics, so getting started should be fairly straightforward.
If you aren't new to Google Analytics, the first step is to create a Google Analytics 4 property for your website which can be done from your GA account. Setting this up won't mean you lose your current setup, but rather allow both to collect data simultaneously. Google has a great GA4 setup wizard that can help you add a GA4 property to a site that already has Analytics. If you aren't currently using an analytics tool for your business, now is a great time to get started so that you will have plenty of time to learn the new format and reporting process.
Ways You Can Prepare for GA4 This Year
It would be easy to assume that the transition to GA4 would be a seamless process, however, the reality is that it can be much more complicated for many users. GA4 captures data differently than Universal Analytics so the fields and interfaces that hold your data are a lot different. Here are a few high-level ways to begin preparing for the transition.
Update Reporting – GA4 captures data based on the firebase platform which means it collects data from both mobile devices and applications. All fields captured in GA4 reporting are more customizable than Universal Analytics, however, they don't align with the existing fields captured in UA and will need to be recreated. Google has a great list of equivalencies between GA4 and UA data that can be found here.
Learn the Benefits of GA4 – While GA4 could require significant effort to set up, it doesn't mean it won't be an improvement from Universal Analytics. GA4 offers advanced measurement options and it integrates page view, scroll, outbound click, site search, video engagement, and file download tracking all by default. This platform switch also allows Google to comply with new personal data laws that can help marketers better navigate the impending cookie-less digital world.
Update Tagging – All existing tags will need to be rebuilt to support GA4 tags since they capture data in a new way. For each event that exists within Google Tag Manager, you will have to build an additional tag tied to the same trigger in order to send data to GA4.
Although you can still use your Universal Analytics property until the deadline, it will really pay off to take the time now to add a GA4 property to your account so that you will have plenty of time to get used to this new way of analyzing your data moving forward. Accurately tracking your data on a monthly, quarterly, and annual basis can provide the data you need for your business to grow. Our team is ready to help get you started! Contact us today for more information.