Skip to Content
8 Tactics for Online Reputation Management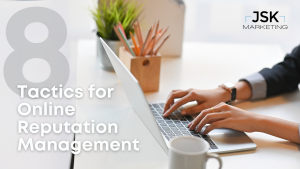 With the increasing importance of social media and online reviews, customers are more likely to form opinions about a brand based on their online presence. That's why effective online reputation management (ORM) is essential for businesses to protect their brand image and build trust with customers. ORM involves monitoring your online presence, responding to customer feedback, producing valuable content and more. We'll discuss the tactics for effective ORM that your business can implement to thrive in today's digital landscape.
Monitor Your Online Presence
The first step in effective ORM is to monitor your online presence. This means keeping an eye on social media platforms, review sites and other online channels where customers may be discussing your brand. Use tools like Google Alerts, Hootsuite or Mention to track brand mentions and conversations online.
Respond to Negative Reviews
When a customer leaves a negative review, it's essential to respond in a timely and professional manner. Address their concerns, apologize for any mistakes and offer a solution to their problem. This shows that you value their feedback and are committed to providing excellent customer service.
Encourage Positive Reviews
Getting more reviews, especially positive reviews can go a long way for attracting new customers. Encourage satisfied customers to leave positive reviews on review sites like Google, Yelp or TripAdvisor. This not only helps to build your online reputation but also helps to attract new customers who are researching your business online.
Create High-Quality Content
Creating high-quality content is a great way to establish yourself as a thought leader in your industry and improve your online reputation. This includes blog posts, videos, social media posts and other forms of content that provide value to your target audience.
Engage with Your Audience
Engaging with your audience on social media is a great way to build relationships and improve your online reputation. Respond to comments and messages promptly and actively participate in online conversations related to your industry.
Build a Strong Brand Identity
A strong brand identity can help to differentiate your business from competitors and improve your online reputation. This includes developing a unique brand voice, using consistent branding across all channels, including social media, and actively promoting your brand values and mission.
Optimize Your Website for Search Engines
Optimizing your website for search engines can help to improve your online reputation by making it easier for potential customers to find you online. This includes optimizing your website's content, meta tags and other elements to improve your search engine rankings.
Hire an ORM Expert… like us!
If you don't have the time or expertise to manage your online reputation, consider hiring an ORM expert. They can help you develop a comprehensive ORM strategy, monitor your online presence and respond to negative reviews and comments in a timely and professional manner.
Businesses must prioritize effective reputation management. By implementing the tactics above, you can safeguard your brand image and cultivate a favorable online reputation. At JSK Marketing, we understand the importance of online management for businesses. Our team of experts can help you develop a comprehensive ORM strategy tailored to your specific needs and goals. From monitoring your online presence to responding to reviews and building a strong brand identity, we can help you protect your brand image and improve your online reputation while you focus on your business. Contact us today to learn more about how we can help your brand succeed online.