Skip to Content
4 Ways to Support Local Small Businesses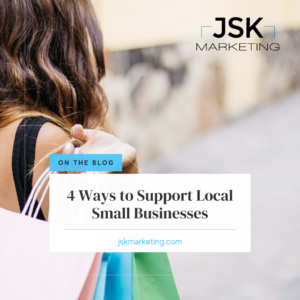 As the holiday season approaches there's no better time than NOW to support your favorite, locally owned, small businesses! While fan favorites like Target, Amazon, Costco and Nordstrom have some amazing things we all can't live without, it's always worth considering whether the purchases you're making with these large-scale organizations could be replaced with something more intentional from a local and/or small business. In fact, supporting your favorite small businesses doesn't even have to cost money. In this blog post, we'll discuss a few ways (free and not) that you can support your favorite small businesses and entrepreneurs.
1.    Like, Comment, Share
One of the simplest ways you can make a huge impact on your favorite small businesses' digital footprint is to like, comment or share their social posts. The more you engage with your favorite businesses online, the more their content is likely to be seen by your peers, other followers, and new potential customers. Taking a few extra minutes each day while you're already scrolling through Instagram, TikTok, Facebook, Twitter or LinkedIn to pause and check on the latest posts your favorite small businesses are sharing can go a long way!
2.    Leave a Positive Review
It may be shocking but nearly 95% of consumers read reviews before choosing to make a purchase or to do business with a company. While we'd never encourage vanity referrals, if you have shopped with or used your friends, family, or local small businesses' services, then leave a positive review. This not only influences other consumers, but when leaving a review on Google specifically it can impact the company's search rankings as well. If you're not sure where the best place to leave a review is, ask the business owner, as the most valuable review sites will vary from industry to industry (i.e. a restaurant may prefer a Yelp review, while a local marketing company will likely prefer a Google review).
3.    Choose Local for Celebrations
If ever in a bind when it comes to purchasing a birthday, housewarming, or other celebratory gift, stop by some of your favorite local small businesses. Not only will you be supporting a small business owner but you're also more likely to find something more intentional and unique that the recipient is sure to love. Plus, when you gift items or gift cards from local businesses, you're exposing that small business to another person too.
P.S. Skip the gift bag (an extra expense) when gifting a local find from your favorite small business. Use the cute, branded bag they wrapped your gift in to help provide just one more notch of exposure for your favorite shop.
4.    Make a Donation
We often forget our friends who run non-profits are businesses too. One of the most meaningful things you can do is to support a local non-profit that is directly impacting the community you live in. Donating to your favorite causes (or a friend's favorite cause) is also an incredible gifting solution! Let's all face it, most of us have more than we need, so why not spend that $30 or $100 on something really impactful instead of buying another candle or bottle of wine?
While there are a myriad of ways you can support small, local businesses, the above are a great place to start no matter the size of your wallet or sphere of influence! As a small business ourselves, JSK Marketing loves working with and supporting other small businesses. Let us know in the comments who your favorite service and product based small businesses are to support.
Some of JSK's Favorite Small Businesses to Support
Beauty
Pearl Nails, Jacksonville Beach
Wild Ivy Salon, Jacksonville Beach
Do Good Beauty, Murry Hill
Coffee Shops
Southern Grounds, Neptune Beach & San Marco
Social House Coffee, Avondale
Dessert
Cinotti's Bakery, Jacksonville Beach
Tasty Creamery, Orange Park
Mayday Ice Cream, Various Jacksonville Locations
Home Services
First Coast Mortgage Funding, Nocatee
Construction Specialties of North Florida, Jacksonville
Gift Boutiques
Palmetto, Neptune Beach
Sailors Siren, Jacksonville Beach
Kids Shops
KYDS Boutique, Neptune Beach
HeyDay!, Jacksonville Beach & San Marco
Non-Profits
Restaurants
Women's Boutiques
Lemon Twist, Ponte Vedra Beach
Carla's Shoes, Ponte Vedra Beach